Days of Our Lives # 158
1/18/06
MAIL-call - PRESERVING FORGOTTEN MEMORIES
This newsletter is intended only for the use of the ASA TURKEY Veteran's. Your memoirs are most
welcome to the DAYS OF OUR LIVES and is an effort on my part to preserve the stories and memories of
ASA veterans who served in Turkey. Certainly my goal is to collect and to preserve the stories -- that we
honor the ASA Turkey veterans and that we educate future generations about what it was like for us COLD
WAR veteran's. On the importance of the ASA Turkey BIO's - that not too many years from now people
will be able to look back and understand what the ASA was all about and why ASA personnel served in
Turkey and have a better understanding of the experience of veterans who went through the Cold War.
Whether you choose to share your BIO is a personal choice. However, information not shared is the same
as information lost. Keep in mind that the Internet is a universe unto itself and is a dang near veritable
hell-hole filled with scams, scam artists, frauds, thieves, and greedy people, etc. In the old days, back
when mail crossed the country in days, identity theft still took place. Today, e-mail crosses the country at
the speed of light. The crooks do too. Your privacy is extremely important. Therefore, if you wish not to
receive future DAYS OF OUR LIVES, please send that request to ercgreen@yourinter.net. - When you
send an email to me - PLEASE include the word ASA in the subject line to insure that I open it and not
mistake it for SPAM. Thank you- - -gH

Make a 2006 resolution to write and share your ASA Turkey information with the DOOL gang. The
DOOL spirit is all about sharing --contributing what we know or have compiled so that others with similar
interests may benefit from your/other information, and expertise. Of course, we always hope to learn from
others' contributions in return. If you are one of the newcomers, welcome, and here's some pointers to get
you started. A good place to start is with the DOOL webpage: http://dool-1.tripod.com.

GREEN, Elder RC (gH), DOB: 1936, RA13513638, E7, 982/98C, Det 27, 1-15MY61, Det 120, MY-JL65,
Det 27, JN66-OC67 & Det 4-4, OC67-NO68, (Patty), 3094 Warren Rd., Indiana, PA 15701, 724-349-7395,
ercgreen@yourinter.net.

2006 ASA TURKEY REUNION NEWS
13-17 September 2006 at Fort Mitchell, Kentucky
The 2006 reunion will be held 13-17 September in Fort Mitchell, KY and will be hosted
by Hal and Bobbie Winkler of Cincinnati, Ohio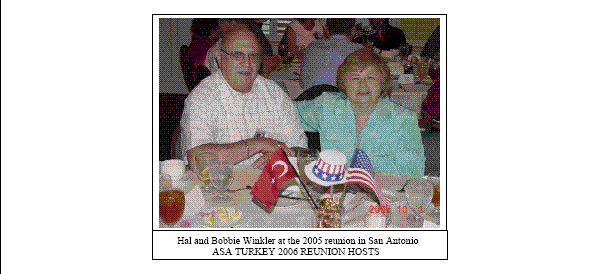 HOST HOTEL: Drawbridge Inn (www.drawbridgeinn.com)
ROOM RATES: $75 per day plus 11.24% tax.
RESERVATIONS: 1-800-354-9793
LOCATION: Fort Mitchell, KY - 5 miles S of downtown Cincinnati, OH on I-71/I-75
AIRPORT: The Cincinnati/Northern Kentucky International Airport is 8 miles away.
AIRPORT TRANSPORTATION TO/FROM DRAWBRIDGE: Free
HOSPITALITY ROOM: Yes – with free snacks and beverages.
TENTATIVE TOURS: The USAF Museum in Dayton http://www.wpafb.af.mil/museum/
A meal at the Hofbrauhaus in Newport, KY - www.hofbrauhausnewport.com
A 3 hour dinner cruise on the Ohio River - www.queencityriverboats.com
A visit to the mall at Newport on the Levee - www.NewportontheLevee.com

Local transportation (TANK) from the Drawbridge to Covington Landing and to
downtown Cincinnati is available hourly at a nominal .50 per person.
When making your reservations state that you will be attending the ASA Turkey reunion.
Please note that Cincinnati will be the site of a Octoberfest on 16 and 17 September in
downtown Cincinnati.

YOUR SERVICE
:Only when men from all of the people are willing and ready to fight and die for freedom does
freedom have meaning for them. Only then does democracy thrive. This is the inexorable lesson
of history." by General Bruce C. Clarke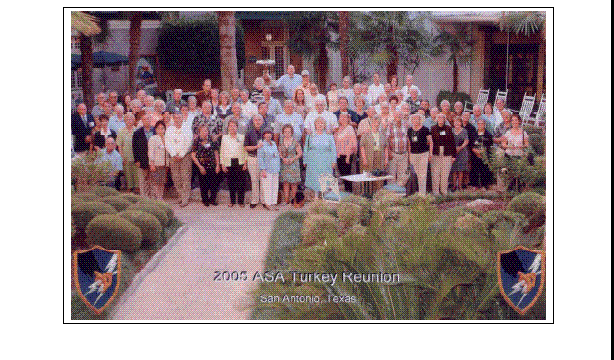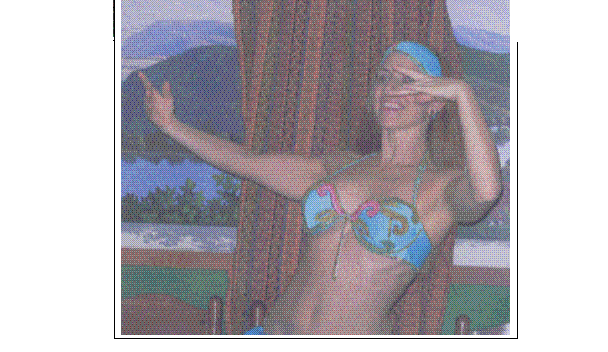 ASHWORTH. Ronald, DOB: 1932 DOD: 8 Dec 2005, Det 4, 62-63, (Bette), San Angelo, TX –
Ron was in Korea 1951-1952 (he was non-ASA at that time). After a break in service, he reenlisted
and went ASA. He attended school at Devens and was then sent to Kenai, Alaska
(Wildwood Station) from 1957-1959; NSA, Fort Meade 1959-1962; Monterey for more school in
1962; Det 4, 1962-1963; NSA, again from 1963-1966; Goodfellow (back when it was an Army
Det there) 19 67-1968; Rothwestern, Germany from 1968-1971; Vietnam 1971-1972; Goodfellow,
again in 1972 until he retired 31 Oct 1973." Bette may be contacted at bettej@cox.net

BLUNK, Robert A. (Bobby), E7, Det 27, 58-61, WO, Det 4, 66, DOB: 30 September 1931 DOD 2 June
1998 in Dover, TN SSN: 479-32-0212 iss IA

BUTTLEMAN, Alice L. – From John Bryden: "…Alice L. Buttleman died peacefully on 6 December
2005. She was the widow of COL (Ret.) Leslie L. Buttleman, USASA. During World War II, she worked
for the government in various functions throughout the Midwest. Married in 1944, she accompanied her
husband and raised her family at various duty stations in the U.S., Panama and Europe. A memorial service
was held at the Fort Myer Chapel, and she was interred next to her husband at Arlington National
Cemetery.

CARTER, Ellen wife of Kenneth (Nick) Carter, Det 4, 67-68

DISNEY, Sylvia J., wife of Leonard K. (Diz) Disney passed away on 19 April 2005 at Lafollette, Tn. She
was born 19 September 1940. the wife of Leonard (Diz) K. a former senior NCO with Unit 10.
Expressions of sympathy may be sent to the family at: P. O. Box 302, LaFollette, TN 37766-0302."

FORBUS, Jim, YOB: 1938, DOD: 2005 E4, Supply, Det 4, MR58-MY59, (Sara), 665 Bynum Acres Dr.,
Anniston, AL 36201, 256-237-3345, gheeforbud@aol.com Ret E8 - Regret to inform the death of James
(Jim) Forbus, ASA his whole career, today in Birmingham, AL. Jim was a very sick man having gone
through open heart surgery while having many other internal problems.

I made contact with Jim Forbus on 28 February 2004 through the efforts of Ernie Carrick. Jim was a lifer
who served in the ASA from 1956-1976 retiring as a 76Z E8 at Hunter Army Airfield in Savannah, GA.
Native of Sylacauga, Alabama. Took basic at Fort Jackson, then off to Fort Devens for about 6 months and
worked as a clerk before sending him to Fort Gordon for schooling in parts identifying. Then to Fort Bragg
- then to Det 4 in Sinop via 2 1/2 ton in March 1958. At Sinop worked in Supply with Stu Hammett.
Fondly remembers the outhouses, GIMP Hall, hauling water to the hill, the rationing of water resulting in
once a week date with the shower. Remembers Jack Dunlap working in the Motor Pool, but never heard
that Dunlap was recruited by the KGB while at Det 4 and that he continued spying for the Soviet Union
until caught in 1963. Doesn't remember too many names from that tour. Does however, remember Dutch
Cronk who was hurriedly shipped out of Det 4 in a courier bag. Rumor had it that Cronk had a affair with
either the wife of the Sinop Police Chief or Fire Chief and everyone knew that that was a NO, NO! Other
assignments after Det 4 were Vint Hill Farms; Chitose, Japan; ASA Field Rep at Amarillo, TX.; Udorn,
Thailand; Hakata, Japan; Fort Bragg; Vietnam; Fort Devens and lastly at Hunter Army Airfield. As a
civilian worked as a General Manager for a Chevrolet, Olds and Buick dealership from 1976 to 2000. Said
that he had a good life until he reached age 60 when he suffered a stroke to his left side and now more-or-less
relies on his faithful wife, Sara, for the necessities of daily life. Jim and Sara attended the 2004 reunion at Huntsville.

REACH, Terrell, DOB; 30 July 1924, DOD: 5 August 2005 at West Blockton, AL. SSN: 424-24-7562 iss
AL., RA34200022 E5 Supply, Det 4, 58-59 and E6 Det 4-3 NO68-OC69, (Mildred), 464 Louisiana St.,
West Blockton, AL 35184, 205-938-7639 – Ernie Carrick informs of the passing of Terriell Reach, ASA
his whole career. Married in 1946. Contacted on 9 June 2003. - Joined the Army in March 1943 at
Centerville, AL and retired in September 1971 as a E6. Was recruited into the ASA in the Supply field in
1957 and was assigned to Sinop in 1958 and worked in Supply. Was friends with Ernie Carrick. In
December 1968 he got concurrent travel to Istanbul for duty in Supply at 4-3 under Captain Richard Hahn.
They lived on the Istanbul economy. Mildred left early to attend to family matters and Terrell spent only 11
months of the 24 month stint. Has owned a Pest Control business for years and still at age 78 is still
operating the business. He served in Vietnam, Turkey, Arlington Hall Station, Fort Devens, etc. . He is
survived by his wife Mildred and 5 children.

SAGE, James Howard., YOB: 23 January 1942, DOD: 24 December 2005 - RA16657274, SGT E5, 722,
Det 4, 62-63, (Janet), 8197 Irish Rd., Millington, MI 48746 517-871-3758 greatlakesfab@tds.net – Frpm
Lowell Mix. This is to report that one of our members, ex-Sgt James Sage, died Christmas Eve morning .
Jim Sage and I were room mates at Sinop in 1962-63 and very good friends.. See DOOL#142 and #153
Jim up-dated his ASA Turkey MASTER ROSTER entry and wrote: "I'm retired from the old AC Spark
Plug in Flint, MI where I was a experimental metal model maker and a toolmaker. I spent 34.7 years at AC.
I'm currently adding on to our home and remodeling the rest of the house. My main hobby is kayaking and
my wife and I have 13 kayaks with which we run rivers and do sea kayaking. Take care and I hope to meet
you someday soon. At a reunion. Sincerely, Jim Sage

JAMES HOWARD SAGE
By Lowell J, Mix
James H. Sage was called to his Heavenly home suddenly early Christmas Eve morning, 24 December
2005. A sudden heart attack took the life of one of America's finest: a man who loved life, family and
country; an inventor, builder, and patriot who was loved by all who knew him. While his suffering from
two severe illnesses is over, the hearts of those who loved him will mourn his absence for a long time. Jim
was born 23 January 1942, in Flint, MI. Jim was well-known as a very active person who quickly won
respect, confidence and friends with his natural love of people and family. He had the distinction of
building three garages with his father and not just one, but two homes. Jim's favorite passions included bird
hunting, fishing, long-distance bicycling, cross-country skiing, camping, boating and kayaking. He could
also make a ballroom dance floor come alive. Folks in Millington, Michigan, knew and loved Jim for the
huge family- and church-group activities Jim held regularly at his home. They included swimming and
boating in his pond, riding his cable-car across the pond, picnicking on the grass, playing ball on his
baseball diamond, or flying model airplanes on the landing strip Jim leveled and mowed just for that
purpose. Jim started his career by serving his country in the US Army from 1960 to1963, where he
excelled in the field of cryptographics. He was assigned to the US Army Security Agency, serving one year
in Korea attached to the First Cavalry Division, and his last year in Sinop, Turkey. His winning personality
along with his dedication to perfection earned him the confidence of his superiors, an early promotion to
the rank of Sgt (E-5) and the commendation of a job well done. Upon completion of his military service,
Jim attended Flint Jr. College before starting a family and settling in Millington. Jim then earned his
certification as TIG welder of aircraft components and began his career as an apprentice, working his way
up to become a Process Engineer in the Engineering Model Shop of AC Spark Plug at Rochester, MI.
While in this capacity, Jim invented a catalytic converter from which GM made millions. He rounded out
his career as a toolmaker for Delco Electronics, building parts for and servicing production circuit-board
machinery before taking early retirement to build his second house.
Jim will be long remembered by all whose lives he touched. Integrity, responsibility, thoroughness,
commitment and action are the traits Jim demonstrated throughout his life. He will be missed; but his
memory will always abide in our hearts, as those of us who had the fortune of knowing James H. Sage were
touched in a way that we will never forget.

ON SICK CALL – ex-ditty-bopper
SPRINGMEYER, Roy L., YOB: 1938, E3-E5, 058 Det 27, OC60-OC62, (Nancy), 319 W.
Oakview Dr., Visalia, CA 93277, 559-732-1310, rspringmeyer@comcast.net
My name is Brian Springmeyer and I am the son of Roy Springmeyer. Know he enjoyed getting
the DOOL letters from you and greatly appreciated the effort you put into it. I just wanted to send
you an update about him so that, maybe, you could let people know about his situation and keep
him in their thoughts and prayers. My dad was diagnosed with ALS or Lou Gehrig's disease on
12/10/05. He has been in the hospital since 11/26/05. He was transferred to the ICU at the
University of San Francisco Medical Center on 12/3/05. We were hoping to get him into a
respiratory care facility in Porterville, CA (closer to home) before Christmas but that doesn't look
like a possibility at this point due to infections caused by his illness. If you have any questions
please let me know. Thank you for your time. Sincerely, Brian Springmeyer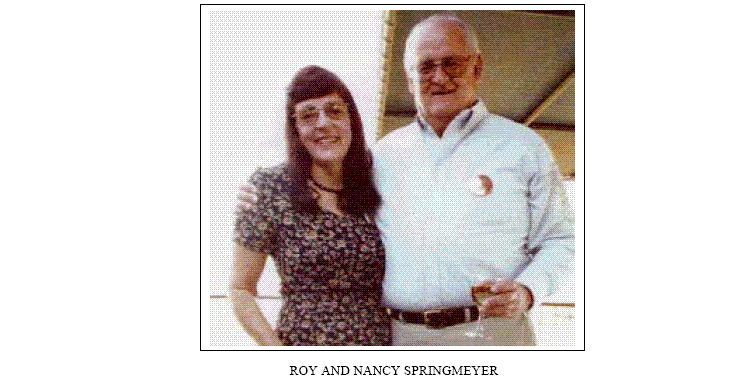 I arrived at Manzaralli Station in September 1960 for what I thought was a 18 month tour but due to the Berlin Crisis had the pleasure of staying 2 years and 21 days. It worked out for me because with the extension I had less than 90 days to go on my enlistment so I was given an early out. The scariest thing about the whole situation was that some other guys and I had orders to come home and JFK made his famous speech about the blockade of Cuba three days before our scheduled departure. We just knew that we were going to get another JFK extension. Some
of us kind of hid out those last three days, thinking that if they couldn't find us they couldn't
change our orders. Well, we got off on time and drank the plane dry between Paris and New York.

TRICK#2 – THE MAJESTIC RAIDERS
I was assigned to Trick #2 all the time at Site 23. I met some pretty decent people and some of
the friendships still linger on after all these years. I have some bad news, I recently became
aware of the deaths of two of our old Trick #2 buddies, namely Bob Erickson and William
McClelland, Larry Vanvekoven, another 058, informed me that he, too, has had health problems
and that he has had a heart transplant and that Bill McClelland died in the 1970's from cancer.
Bob Erickson from Iowa passed away in February of 1999. I talked to his widow Sharron and she
said that Bob often talked about his Det 27 experiences and friends from his ASA days almost
every day of his life. Both of these guys will be missed.


SOME INTERESTING INCIDENTS THAT I REMEMBER WITH A SMILE ON MY FACE
I remember a few incidents that occurred while I was at Det 27. But keep in mind that was forty
years ago and perhaps my memory has faded. One incident that stands out concerned most of
the Trick #2 manual morse section. I did not participate in this event but savored the stories
about it. Seems a group of Trick #2 guys went Bowling in one of the Bars in Ankara called the
Majestic Bar. They were all having a geat time buying tea for the girls but when the time came to
pay the Tab a disagreement occurred about the amount owed. Somehow a mild riot broke out
and the Turkish Police and the Air Police got involved and all the guys were taken to the station.
As I recall there were several forms of disciplinary action taken. After that incident - the Trick #2
athletic teams were known as the "Majestic Raiders".

SELF EXPRESSION SLOGANS
I remember when some of the ditty-boppers on trick #2 would draw pictures on 3X5 cards and
color them up to resemble flames and whatever. Then a few choice slogans began to appear
here and there on the stupid little cards. Some of the slogans were like FTA etc. These cards
were a harmless form of self expression. However, this one nameless Lt. pushed the panic
button and collected them all and turned them in and a major investigation occurred to determine
if the Communists had infiltrated Manzaralli. Well, this caught on like wildfire. We had a T-shirt
flying on the flagpole one morning with FTA printed front and back. We even had one of the
numerous stray dogs wearing a T-shirt with FTA printed on it and sporting it all around the Post.
It wasn't too long after that, that all the stray dogs disappeared. The Communists must have
gotten them! Anyway, I think one of the investigators brought down from Europe figured out that
this whole affair was a lot to do about nothing. But it sure provided a diversion for a while.
Nothing ever came of it.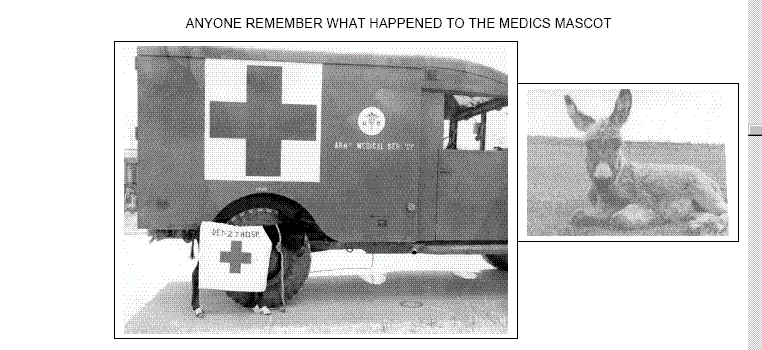 We all remember the Alcoholic Asak (donkey) who liked to hang out on the patio at the NCO Club
and drink beer with the boys. It also liked cruising the sidelines at the Flag Football games
begging for beer. I saw him, on a couple of occasions, walk up behind someone on the sideline
and nudge them in the back with his snout. I guess it was his way of asking the person to share
his beer. I really don't know what ever happened to our alcoholic friend, but one of the stories
going around just before l left Turkey was that he had been out rolling in the mud and had gotten
himself matted with mud and he stopped by the rear of the Mess Hall, just like he always did, to
get a hand out from the kitchen help. Well. rumor had it that one of the German or Italian cooks
saw him and was repulsed by his filthy condition so he told a couple Abis to clean him off. So
they proceeded to do it.........with a steam cleaner! He was last seen heading over the hill. He
must have quit drinking cause he never came back. The NCO Club was never the same.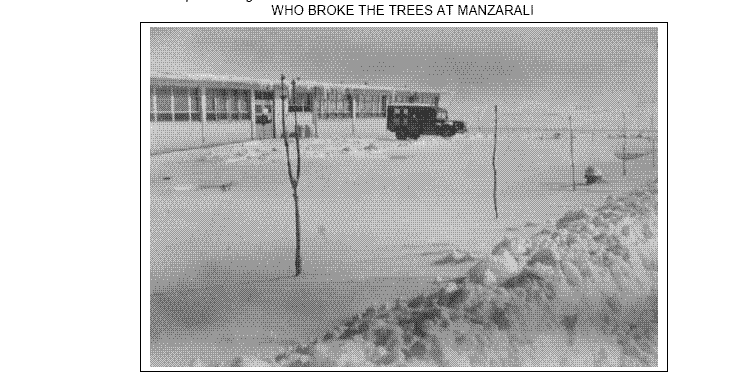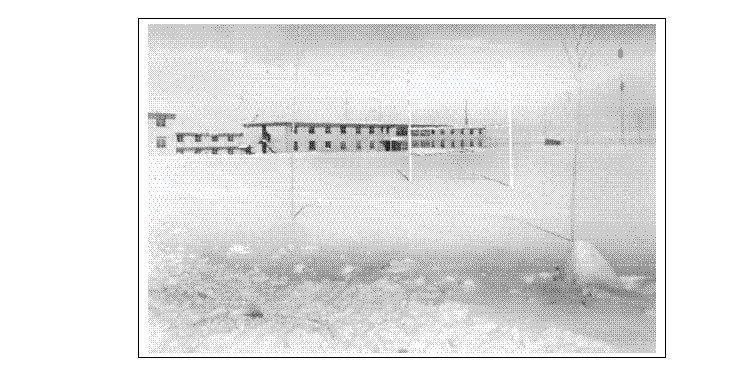 A lot of effort was put into landscaping the Manzarali post and a whole bunch of trees about as
big around as your thumb were planted lining all the sidewalks. They really looked nice, it surely
beat the sight and odor of all that goat manure that they spread all over everything. One night
someone worked his frustrations out on the trees on his way back from the NCO Club and broke
a whole bunch of them. It really made someone mad, we started having interior guard duty for a
while. I missed that one also, my name was on the next duty roster for guard duty the day they
stopped it. Its the only time I can remember that the Army's alphabetically by rank policy worked
in my favor. I don't think we ever found out who pulled this little caper.

THE MOST UNUSUAL GAME AT MANZARALI
One other little story that I remember involved two ditty-boppers! Ted Langlie (from Chicago) and
Joe Kelly (from Boston) had an ongoing game of "tag" between them for well over a year. It
might still be going on for all I know. Anyway, you would see them chasing one another all
over,.......... the mess hall, the barracks, one of them would break into a formation to "tag" the
other. We would see them in Ankara at the AFEX chasing each other. Langlie was on Trick #2
and Kelly was on Trick #4. No place was sacred. The game just went on and on everywhere all
the time. After a while when you saw these two guys chasing each other all over the place you
kind of accepted it as what they did.

LIFE AFTER ASA
I got out of the Army and went home to Colorado and then decided to spend the winter with my
parents in California. While in California I got a job in Law Enforcement and spent 22 years in a
local Police Dept. Then I went into Public Works for a period of 10 years and worked in almost
every Department in the City of Visalia, CA. I retired in 1995 as Director of General Services.
Although I probably won't get back to any of the ASA Turkey reunions, I want you to know that I
really appreciate the effort you're putting into the Reunion and the Newsletter.....Keep up the
Good Work - it IS appreciated.
ALPHABETICAL INDEX OF THOSE ASA TURKEY VETERAN'S LISTED HEREIN
MAIL CALL
ADAMS, Peter, Det 27, 65-66
ANDREWS, Frank, Det 4, 59-60
BAISLEY, Bob. Det 4, 60-61
BARRETT, Yogi, Det 27, 65-66
BAZZETT, Tim, Det 4, 63
BROWN, Keith, Det 4-2, 64-68
COWIE, Bill, Det 27, 60-62
DANDRIDGE, Bob, Det 27, 64-65
DesRuisseaux, Roy, Det 27, 61-62
GILE, John, Det 27, 64-65
HANNAH, Jim, Det 4, 74-75
HARBER, Jim, Det 27, 62-63
HILLMER, Ron, Det 27, 61-63
MARTINDALE, Dick, Det 4, 64-65
McCLEVISH, Charles, Det 27, 63-64
McCULLOUGH, John , Det 4, 58
MIX, Lowell, Det 4, 62-63
NEILL, Hank, Det 27, 62-64
PAPCIAK, Marion, Det 4, 64-65
RESCHNER, Martin, Det 4, 56-57
RICHTER, Ralph, Det 27, 66-67
SHADE, Jack, Det 27, 60-62
SPANO, Ken Det 27, 62-64
WAGNER, Ed, Det 27, 62-64
WHITE, Paul, Det 27, 60-62

ADAMS, Peter A (Peddie) 32B20 Det 27, 65-66, 14569 MacClintcock Dr., Glenwood MD 21738,
301-854-6906, peteadams@comcast.net - Small world... wonderful world... walked into a spirits shop this
afternoon and a manager called me over and said "Hey don't you remember old friends?" "Are you 'Peddie
Adams?'" well shit it was a long lost "yogi" (M.R. "yogi Barrett) from Det 27 in Turkey... I explained to
him the network/daze of our lives thing and promised to forward the info to you and cc him... So here it is...
hope you have a Merry Christmas and a Happy New Year... Peddie

ANDREWS, Frank R YOB 1940 RA E2-E3 Clk & MP Det 4, SE59-OC60, (Mary), 1311 3rd Ave NE.,
Jacksonville, AL 36265, 256-782-0866, hoggramps@juno.com Ret E8 -Al.... You mentioned in
DOOL #157 that it is unknown when The Det 4 Liaison in Ankara was activated. It was in existance in 1959
when I came into Turkey. I stayed at Det 4-1 for a couple days till CWO Foy Ketchersid flew us to
the Hill in an L-20. The First Sgt of Det 4-1 was 1SG Freddie Burnett (Fat Freddy).
The Army didn't have a belt long enough to fit him so it took two sewn together.

BAISLEY, Robert K YOB 1937 RA14731126 E3-E4 058 Det 4, NO60-NO61, (Angela), 23 Brookcliff Dr,
Asheville, NC 28804 828-252-9602, argos9@charter.net - Name found on Devens travel orders sending
Baisley and Jerry Melton to Det 4. Contacted on 30 December 2005.

BARRETT, Monty (Yogi) E3-E5 Det 27, 65-66, yogiwine@msn.com
Pete: Thanks for cc'ng me on the email! It was great meeting up with you again. Jeeez, it's been about 25
years since our paths last crossed! Go figure, I could recognize you after all these years, and even
remember your name! I guess the senior moments haven't taken full control! I'm not sure if there was
supposed to be an attachment with the email, so if there was, it did not come through. When I return from
my holiday trip, I'll give you a call about getting together soon thereafter. It was great seeing you again
Peddie and low and behold, I actually recognize a couple of the names you sent the email too. Hard to
believe it's been almost 40 years since our TUSLOG days, when we were all young and good lookin'! Well,
at least some of us!
Look forward to seeing you again soon Pete. Yogi

BAZZETT, Tim 058 Det 4, 63, PO Box 282 Reed City, MI 49677-0282, - I just sent off an e-mail to
Janet Boyte to ask about the "Look Homeward" book. I just had the funniest e-mail from Frank
Andrews in Alabama, who'd just read SoldierBoy and had to share some of his stories from the
late 50s at Sinop in more "primitive" circumstances - outhouses, central showers, tents, etc. He'd
gotten the book from Vince Caruso in New Orleans, who'd gotten it from Charlie Rodrigues in
Syracuse, NY (who ordered it from me), and Frank is sending it next to another buddy, Fred
Schwartz, in Morganton, GA. The four of them are all Sinop vets who get together about once a
year. Frank was an MP there. But he says he knows you too, so I don't have to tell you this, I
guess. Hey, Ft Mittchell, KY, in 2006 sounds just great! I just looked it up in my atlas and see it's
just below Cincinnatti, which is much more do-able for me than TX was. Please put me on the
mailing list for details. I will definitely try to come. You can even make me part of the entertainment
if you want and give me enough advance notice. I'll do a reading and give a talk or whatever,
and then set up shop and try to peddle some books to all my fellow-geezers. So, yeah,
please keep me informed, okay? Merry Christmas,
Tim
P.S. I only got the one DOOL, when you plugged my book. Didn't get any others, I don't think.

BROWN, Keith D YOB 1943 E6 98J Det 4-2, 64-68, (DeDe), 102 Caragana Ct., Sterling, VA 20164, 703-
435-9307, kebrown@caci.com - Any updates on ASA buddies lately? Brownie

CLARK, Forrest E., YOB: 1919, CPT-Maj, CO Hq Co & S2, Det 27, 60-62, 2916 Shannon River
Dr, Las Vegas, NV 89117, 702-363-7963, no email, Ret Col - I contacted Colonel Clark on 9
August and again on 28 December 2005.. Forrest Clark enlisted in the Army on 28 September
1940 at Fort Leavenworth, KS Was in WWII with the 314th Signal Co He enjoyed talking about
his tour at Det 27 and said that he was to Sinop several times as the S2. I informed him of the
DOOL and he immediately requested a copy of the DOOL since he doesn't have a PC and Lowell
Mix delivered several copies to him and he was grateful to receive them


The above Jack Shade pass shows that Forrest E. Clark was the Hq Co Commander in
December 1960. Forrest was 41 at that time. Forrest is 86.
COWIE, Bill Det 27, cowiew424@yahoo.com
Hello and Happy Holidays to all of you. Can't help but think of all of you and those two Christmas days in
1960 & 1962 that I spent in Turkey. As I recall, the 1962 Christmas was the lonliest day of my 20 young
years. Hard to believe it was 44-45 years ago. Everything is different today. I'm surrounded by people
who love me and whom I love and I don't think I've ever been happier or more contented. I'm glad I've
made contact with each and every one of you in 2005. I hope each of you and your families have a joyous
hoilday season and I hope to see each of you in 2006, either at the reunion or in some other manner.

DANDRIDGE, Bob E2-E4, 72B C/C, Tk#3, Det 27, FE64-AU65, (Jo), 305 Upper Pond Road
Wagener, SC 29164, 803-649-9798, Bobbyd4@mindspring.com - Appreciate receiving these and
enjoy reading everyone. Hope you and yours have a very Merry Christmas and a Happy New
Year. Bob Dandridge Det27....2/64-8/65

DesRUISSEAUX, Roy DOB: 1941 E3 MP Hq Co Det 27, JN61-AU62, (Josie),176 Springton Road
Upper Darby, PA 19802, 610-622-3343, desrx2@comcast.net
[edited]. I will be returning to work (on a limited basis) this coming Monday. Hopefully after 4 weeks I'll
be at it full time. I will be retiring from the post office sometime in the fall. Below is a photo of Jon Woods
who was the Det 27 photographer 1962-63.

GILE, John C., YOB: 1944, RA16741627, E4-E5, 988RU Det 27, SE64-AU65, (Irene, aka
Renie), 1717 Harlem Blvd., Rockford, IL 61103, 815-968-7958, mailbox@johngile.com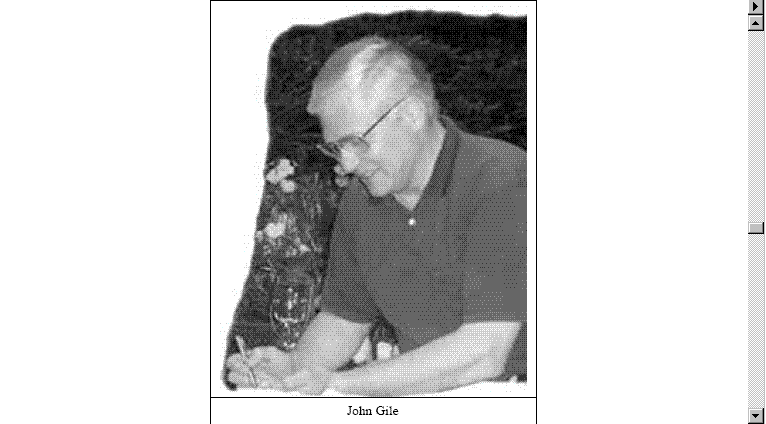 I contacted John Gile in January 2006 and had a long chat with him regarding his Tour of Duty at Det 27 as
a Russian linguist. He promised to write his ASA memoirs and submit it to the DOOL. In the interim I've
extracted one of many write-ups that are on the web. To read others, use google and then type John Gile in
the find box.
John Laurence Gile, Executive Director of Project Angel Food. In his role as Executive Director, John
Gile has been overseeing the day-to-day operations of Project Angel Food for more than a decade. Since
July, 1993, he has been providing strategic leadership to the team and ensuring that the agency's vision
stays on track. Not only is he the "go-to guy" for every concern, he is also chief fund-raiser, working hard
to bring in the $10,000 a day that is required to keep the program running seven days a week. "It's all about
networking," he says. A typical day sees John running from a meeting with church leaders in South Los
Angeles to rubbing shoulders with entertainment figures and attending community funding meetings.
In his words, it's the people that make him love his job so much. "Every day at Project Angel Food is a
spiritual journey," he says. "I work with some of the kindest, most hard-working people anywhere. At the
end of the day, it's always satisfying to know we've seen more than 1000 people and been able to help
them in some way. It's an honor for me to be the steward of the public trust."
Prior to his appointment by Project Angel Food's board of directors, John was Executive Director of the
Muscular Dystrophy Association's Los Angeles office. During his tenure at Project Angel Food, John has
served on the board of the Emergency Food and Shelter Program (1993-2001) and chaired the board of
EFSP (a federally-funded entity that provides over $15 million in funding to homeless shelters, food banks,
and hunger programs throughout Los Angeles). He also served on the Planning Commission for HIV/AIDS
Services at the County of Los Angeles from 1994-1998.
HANNAH, Jim (Pappy) YOB 1935 Det 4, 74-75, (Mary Ann), 145 Robinson Cove Rd., Leicester,
NC 28748, 828-683-1668, hannahma@juno.com - Got your newsletter. Jim enjoyed reading it
and seeing photos. Keep up the good work. Merry "Christ"mas and Happy New Year, Jim and
Mary Ann Hannah in Western North Carolina

HARBER, Jim YOB 1943 E3-E5 058-Tk 1 Det 27, 19MY62-27OC63, (Becky), 110 Sable Trace
Trl., Acworth, GA 30102, 404-771-3074, jimharber@juno.com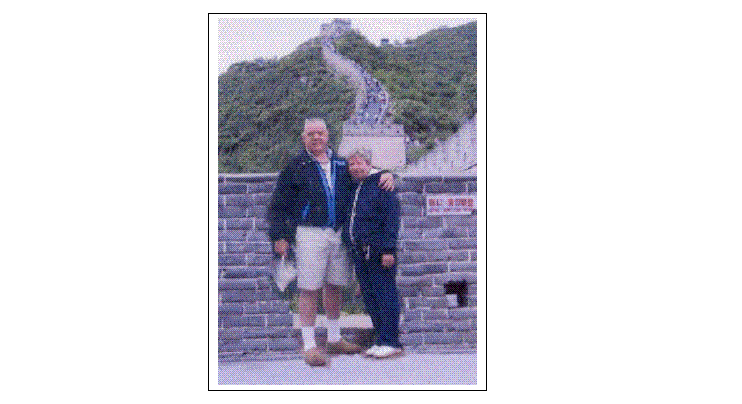 The above photo of Jim & Becky Harber was taken at The Great Wall near Beijing in May 2005.
The Harbers spent 2 weeks touring Mainline China that included stops in Beijing, Hangzhou,
Nanjing,Wuxi, Suzhou and Shanghai. Upon their return – Jim retired again from IBM with 37
years time in grade at IBM. In August they took a week vacation to Florida where they enjoyed
the beach and Disney World with their granddaughter. In October they flew to California for a
week and visited friends that included Phil & Donnie Kelly who Jim Harber served with at Det 27
in 1962-63. The trip culminated with a 4 day stay in Las Vegas.

HILLMER, Ronald J (Ron) E4 Det 27, 61-63 fm @ Osakis,Hills, MI 48309, 248-375-0081,
howardcstephens@comcast.net - Chuck: Thanks for sending along the newsletter to me. Its my first
one and I really enjoyed it. I was in the middle of reading it when to my delight and surprise, Paul
White called me and we talked about old memories of us being there in "The Pit". It made my day
to hear from him and to read about what has been going on with the troops since they left there.
Thanks again! Ron Hillmer

MARTINDALE, Richard K (Dick) RA19761436 BPED 11DE62 ETS 10DE65, E4-E5 Det 4, 64-DE65,
Kettle Falls, WA 99141, 509-738-2711 64 ADR: Summer, WA, rkmrtndl@hotmail.com - Hi, Elder,
thanks for the update about old times in the ASA. I am well acquinted with the Bill Simons Det 4 site, and read
your newsletters as they are published. You are doing a service to all of us, separated as we are by time and distance.
You may use my name online. I was part of Jack O'Brien's group at Monterey, Meade and of course Sinop.
(Back then we knew him as "Obie.") I had not seen that photo of Jack. I have a similar one of myself and
Captain Rocco Navarro. My mother kept all of the letters (both of them!) I sent during that year on The Hill, and so
some of the memories are still fresh in my mind. There were good times, and bad, but mostly good. I left the service
after Sinop, but the military experience was good for me, and the year in Turkey gave me the chance to see how
the other half lives. It was a valuable and enjoyable time. I would send a photo, but I don't have a recent one.
I am camera shy. Best to you, Richard K. Martindale

McCLEVISH, Chas Jr E1-E3 RA13772572 711 S2 Det 27, 63-64, (Carolyn), 1908Harrison Road.,
Dundalk, MD 21222, 410-285-1416, cmcclev@msn.com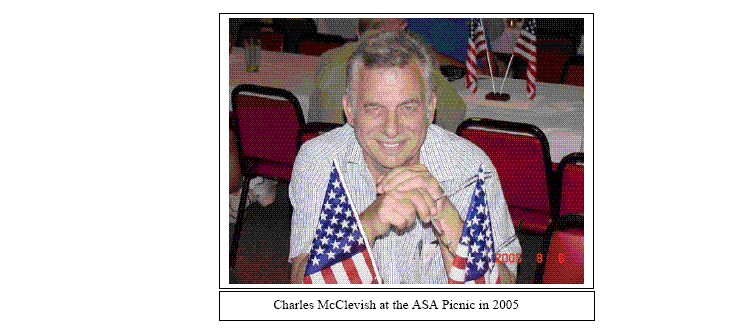 McCULLOUGH, John T., YOB: 1938, E3-E4, 058, DET 4, 58, (Sue), 1044 E. Smith Rd., Medina OH
44256 330-722-6490, john38@zoominternet.net Hi Elder, Wishing you and Patty a very Merry
Christmas and a Happy New Year. Also would like to thank you for getting Dave Collins and I
together. He and his wife Linda came up from Atlanta and spent the weekend with my wife and I.
We had a really terrific time and will be visiting them in the Spring. Of course we probably would
have never located each other without your help. Once again,thanks alot. I see that the 2006
reunion is in the Cincinnati area. Most likely we will attend. I will make every effort to get Dave
and Linda Collins to attend also. Best Regards, John & Sue McCullough


MIX, Lowell J., YOB 1940 E5, 056, Det 4, AP62-AP63, (Eleanor), 5935 White Cloud St., San Antonio,
TX 78238, 775-418-6790, ljmixsr@gmail.com - Hi Elder, I did want to let you know that I made copies of
two of the DOOLs and took them over to COL (Ret) Forrest Clark as you requested. I had hoped to join
you at the 2005 San Antonio reunion. Obviously, and regrettably I could not make it. I was looking
forward to it even though I did not see any names I recognized on the list of attendees. In the
ASA we were pretty much one big (sometimes happy, sometimes not) family. Either way we held
a camaraderie that made it easy to become friends whenever we ran into each other around the
world. I am still here in Las Vegas, but am in the midst of moving back to San Antonio. So my
mailing address and telephone numbers are all going to change. I was just unable to get my act
together to complete my move before the reunion; some things were beyond my control. But
having today mostly free, I spent it with thoughts of you all in San Antonio by sitting down and
reading the ASA Memory Book (Rev 9-18-2003) in it's entirety. So at least I can say that I spent
today thinking of everyone from my Turkey past, reviving many fond memories, and remembering
many more.

YOUR VALUABLE SERVICE
I know it has been said many times, many ways, but again, I sure do appreciate, and I know I
speak for hundreds of others, the dedication and commitment you have made to keep this
Turkey Connection alive for us "old geezers." You are performing a valuable service in
bringing all the stray sheep back to the fold. Apparently you were out there with the Turk
farmers learning how to be a good shepherd while we thought you were....well, anyway.
Seriously, I hope you can keep up the good work; it is not something most people could do,
certainly not as well as you have.
I do not believe I mentioned this to you before, but my third son of four children was born
while I was at Det 4 in 1962, almost nine months to the day after my arrival. That was not an
intended "gift" that I left Mama in Ohio, but he turned out to be a real delight. I was walking
into Opns one morning when I was told by the Opns Officer who I met at the gate, that they
had received a Red Cross message that I had a new son. That is how I remember the timeframe
that I was there - he was born in early January 1963, and I was at Sinop from April
1962 to March 1963. I must also admit that my mind was on the family back home a lot that
year, and it was also the cause for me not remembering more of the names of the many
people that became friends that year. Mama had three boys all in diapers at the same time
and I felt guilty like I should have been home helping her. I believe the Opns Officer's name
was MAJ Norman, but I couldn't swear to it, part of this "senior" process. Another interesting
fact about my ASA career is that, while this third son was born in Ohio near Mama's family,
my first two sons, and later my daughter, were all born at Fort Devens, in the same hospital,
the same room, and we believe, on the same table. I was there for all of those births.
As an EM-type then, and not yet committed to a military career, I considered officers and
NCO's to be best "viewed from a distance," with me maintaining a low-profile and
concentrating on just doing my job as best I could and making E5 to help pay bills at home so
I would not have to maintain a "moonlighting" job on the side.
I was an 056/054 when I was at Det 4, and as a Sp5, I was "NCOIC" of the "Point Site.". I
made E-5 one or two weeks after my arrival at Det 4. That was one of my incentives for going
there from an Instructor status at Devens; no E-5 slots open at Devens at that time so the
only way to get promoted was to go overseas again. When I reenlisted after my first 3 years, I
put in for Taiwan, having been there on my first tour, but hoping to take my family this time,
and you guessed it ; that is how I ended up in Det 4, which is about 180 degrees around the
world from Taiwan. So being the only E-5 056/054 at Det 4 at that time, once the previous
NCOIC rotated, I was moved in to replace him. That took me off the "trick shifts" and gave me
a "day job", although I would fill in on trick shifts whenever needed due to illness or between
replacement arrivals. But that also made me a "casualty" in another sense. I was not really an
NCO, so I didn't fit in with them or the officers, and since I was no longer a "trick worker", I did
not belong to any of the shifts, either. This did not cause me any problems, but it did prevent
me from getting real close to any of my fellow companions, with the exception of my room
mates, an 059 from Rhode Island named Ron and a Sgt in the Comm Center from Michigan,
Sgt Jim Sage, who is in our group. The only other name I recognized in the ASA Memory
Book that I reviewed today was CW3 John G. Randgaard, who at the time I was there, was
the NCOIC of the Comm Center, and I recall him being "all business" and the very serious,
quiet-type who knew and did his job well. I believe he retired as a CW3 and that he is also
one of our members now. There was a SFC (E-7) Berthold (058) there when I was at Det 4,
but he was diagnosed with advanced cancer before the end of his tour, and I believe he died
before 1964. I know he left the Hill before his tour was up to get medical treatment. He was
my supervisor when he was there. I think he was the Assistant Opns NCOIC.

LACK OF DET 4 VET'S IN THE FIRST ASA TURKEY MEMORY BOOK
I realized as I was going through the Memory Book disc, that there is a real shortage of Det 4
personnel, as compared to Det 27 and the other locations, and except for the names I have
already mentioned, I did not find any others who were at Det 4 during 1962 and 1963. In fact
there are many years where no names are recorded for Det 4.
Remind me when my move is done and a few months from now, and I will dig out my old
records and see if I may still have some names of other people that you can contact so you
can build up your Det 4 database profiles, at least for 1962-1963. We had a small Navy
Security Group Detachment of several guys who worked with us out at the Point Site. They
were a small group, but did their time on the Hill along with the rest of us. Have you been
able to identify or contact any of them? They had their own mission and except for sharing
the same equipment, they were entirely on their own, so I do not have any information on any
of them. The one in charge worked a day-shift and we became friends as he was a camera
bug and I used to go with him on weekends while he took a lot of pictures of Sinop and the
surrounding area, including the Hill. He might have some good pictures for the Days Of Our
Lives if we can identify and locate him.
It was interesting to read the story that Jim Baker wrote on how he helped to set up the Point
Site AN/TRD-4 in the late 1950's. I did not know that story before. Having come from Devens
to Sinop, I knew the AN/TRD-4A inside and out. I wrote some of the class room curricula
lesson plans, taught many classes, and gave field instruction down in "G" Division at
USASATC&S on transporting, setting up and operating the AN/TRD-4A. I also came across
two other 056/054's, Jerry Worley (1960) and Jim Wood (1960-61) that are on the disc. I may
try to contact them just for old times sake.
I did notice Clark Bryan's entries. . He and I are old "e-mail buddies" who go back before I
became acquainted with you, although until I heard from you, I did not know that he had been
in ASA Turkey. He was at Det 27 and 4-4. We are both working on genealogy together, and
his wife is a MIX so we probably have a yet-to-be-discovered family connection somewhere.
He lives in the area of NY State near where I grew up and where my father is buried.

SINOP DOCTOR
Among the names I have looked for without success yet, is the name of the "doctor" who was
at Sinop that year. If anyone can recall his name, I would like to contact him. He was a
Captain whose last name I believe had four letters in it, and that is all I can recall, except that
he was in a Chapel Bible study group I was in for awhile. We all called him "Doc;" he wouldn't
let us call him Captain. I spent about a week in his "infirmary" while I was there, and he took
care of me. I would like to thank him and let him know that I did survive his surgery. The Hill
was a good place and time to have a circumcision if you are going to get one, but I strongly
recommend doing it near birth instead of waiting until you are older. The healing process is
much much faster for "little young guys," as well as us older guys have problerms that
complicate the process that little guys don't, and that can cause some real pain.
THE DEUCE AND ONE HALF RIDE FROM ANKARA TO SINOP
I see that many have mentioned the trip from Ankara to Sinop. Those lucky guys who got
to fly up - how I envied them. I can recall my trip up in the back end of a 2 1/2 Ton Truck,
and upon arrival at Sinop, which at the time was "fogged in", I, my duffel bag, and all
those with me were covered with dust so thick that it was "caked" on. I don't think I have
ever been so dirty in my life, before or after. I can also remember as we bounced along
the dirt road how worn down and barren all the hills and mountains looked. It made me
realize that I was really "living through ancient times." I dreaded the trip back the next
year, but for some reason it wasn't nearly as bad. Maybe because I got to sit up front with
the driver on the way back - and I was going home. I do recall that the first thing I did
upon reaching Ankara was to take a long hot shower.
Shortlyafter I arrived in Sinop, probably around May 1962. I was walking in the "court
yard" , a square area surrounded on three sides by two-story dormitory type concrete
barracks, and on the fourth side by the Company Hqs and Orderly Room - when
suddenly I heard the sound of very loud low-flying aircraft. I looked up to see three
Russian Bomber type planes flying in low, coming from the Black Sea to the North, and
taking pictures of Det 4. I mean they were low enough that I could see the face of one of
the pilots. Two of the planes split off, one to the right and one to the left, just as they
passed over us. The third plane continued going straight until it passed over Sinop, then
it turned as well and they all went back out to sea to the North. My first reaction was that
we were "getting bombed", but it was quickly obvious that they were only buzzing us and
taking pictures. They were so low that the noise was deafening. It all happened very fast
and was over within seconds. I guess Ivan wanted to let us know that he knew we were
there and that was his way of telling us. I do not know if that had ever happened before or
since. In fact, while everybody must have heard them, unless you were outside at the
time, they were gone so quickly that very few there actually saw them.
Before I close, I will share a story with you about Sp4 James T. Davis, the first American
KIA in Vietnam and an ASA soldier after whom Davis Station was named. I know it has
nothing to do with Turkey, but it is an ASA story nonetheless, and a very personal story
for me that I have kept inside for far too long. Jim and I were fellow 056 Instructors at Ft.
Devens back in 1961 when a by-name levy came down from Arlington Hall naming a
group of us for a six-month TDY to a place called South Vietnam to train SVN troops in
the use of the AN/PRD1 (which is a portable two-man radio direction finder.) The catch
was that we had to buy a full civilian wardrobe - $200 of it paid for by our good Uncle, and
be at Logan Airport in Boston the next morning at 8:00 am. This levy came in about 3:00
pm the day before we were supposed to leave. At that time, I was in the field with a class
of students teaching them how to deploy and use the AN/PRD1. I was not scheduled to
return until about 5:30 pm, and my OIC was concerned about how long it would take to
find me and get a replacement to take over the class. With the short notice requirement,
he was not sure I could get everything done and make it in time. Jim was not on the levy,
but he heard the OIC discussing it, and asked if he could volunteer and go in my stead.
The OIC queried the Hall, and it came back approved in about 30 minutes. As it turned
out, it was after 6:00 pm that day before I even heard anything about it. Jim was KIA
about two weeks before they were to return from the six-month TDY trip.
I have often wondered if things would have been different if I had gone instead. It really
gave me a sense of knowing what it is like to have someone die in my place, and created
a new spiritual awareness in me. A few months later, I found myself at Det 4 with a whole
year to think about it. It was a very sobering time for me, and perhaps had a lot to do with
my subsequent decision to stay in the Army for twenty years. I had my turn in Vietnam
during all of 1969. I was a Captain then and was detached to another "agency", which
was my only non-ASA assignment outside of basic training, my 23 weeks in OCS, and
my attendance at the Military Intelligence Officers Advanced Career Course during my
seven years enlisted and thirteen years commissioned service. This was also a by-name
levy following TET of 1968, and interrupted my time as the Commander of SRU #3 in
Kyushu, Japan, reducing my three-year tour to 15 months, and sending my family back to
the US much earlier than planned.
Well, I better cut this off - it is getting quite long. My review did bring back some of the old
memories that I did not recall the first time around, as noted above. Anyway, this was the
only way I could share the reunion with you this year. My Best Wishes to all and God
willing, I will see you and the rest another year. I hope everything goes well for all at the
reunion this year. Stay in touch.
PS: Right after I wrote the above and before I could send it, I suffered a medical stress
and anxiety problem that has left me with extreme anxiety and unable to work. I no longer
have a telephone and of course no Internet to use my e-mail, so I do not know when this
message will be sent. But I hope it goes out sometime as it has a lot of good data on
Sinop that I think you can use. I will appreciate your prayers. Hopefully I will get it out
before the end of the year. I will have a new e-mail address then, which will be
ljmixsr@gmail.com. All future contacts should be through that e-mail address. Thank you. LJ

NEILL, Hank YOB 1939 E1-E5/2LT 723.10/FC Det 27, AU62-JA64, (Judy), 7417 Jenna Rd.,
Springfield, VA 22153, 703-569-5163, hneill@erols.com COL, Ret


PAPCIAK, Marion R YOB 1936 RA??, E5-E6, 72B, NCOIC C/C, Det 4, 64-65, (Dolores), 40831 Jellico
Dr., Sterling Hts, MI 48313, 586-247-7818, papciak@prodigy.net

Ballad of the Green Berets by Barry Sadler
"The Ballad of the ASA" by The Men of the ASA Fort Devens 1965-66 sung to the tune of "The
Ballad of the Green Berets" - by Barry Sadler

Drunken Soldiers, Always High
Dropouts from old Sigma Phi
Men who bullshit all the way,
These are the men from the ASA
Plastic cans upon our ears,
We've been cleared and we're not Queers
One Hundred Men we'll test today,
But only three make the ASA
Trained to go from bar to bar,
That's the life that's best by far
Men who drink will seldom fight,
And the ASA drinks through the night
On a Mid, a Trick Chief waits,
Four of his men are coming late
Men who drink among the best
Another drink, their last request
A teal blue scarf 'round my son's neck
Makes my son a nervous wreck
One hundred men re-upped today,
But not a one from the ASA
Black is for the night we fear,
Blue the water we don't go near.
White is for the flag we fly,
Yellow is the reason why.
Red is for the blood we've shed.
As you see, there is no red!
One hundred men reupped today.
Not a one for the A-S-A!
Thanx to D. Buley and Bob Davis
If That Don't Bring a Tear to your Eye ,and a Smile on your Lips You weren't in the ASA!

RESCHNER, Martin J (Marty) YOB: 1937 RA16495117 E2-E3 204 Det 4, 28AP56-AP57(Janet), 123 E.
Maple St., Climax, MI 49034, 269-746-5673, zakkery@netzero.net - Hello, I have just switched my
email address from reschner@netscape.com to zakkery@netzero.net. Please use this new
address for all future emails.

RICHTER, Ralph YOB 1944 E5 05K Det 27, NO66-NO67, (Linda), 9152 Burgett Road., Orient,
OH 43146, 614-877-4890, rrichter@usccs.com - If you need any help with the reunion in KY for
2006 let me know. We will be there for sure. Have a very Merry Christmas and we wish you,
Patty, and all of your family all the best during the New Year. Yours truly,

SHADE, Jack Lee, YOB: 1941, RA13666484, E3-E5, 059, Det 27, OC60-62, (Gerna), 181 Old Park Rd.,
Lewistown, PA 17044, 717-242-0824, jshade4@verizon.net BPED JA60 Please note new email address.
Jack Shade enlisted for ASA duty on 12 January 1960 at New Cumberland, PA. Was in BCT 12 January
1960 to 18 March 1960 in D Co., 19th Bn, 5th Regiment at Fort Jackson, SC. Was at Devens 31 March 1960
to 16 November 1960 in F Co, USASATC&S and was awarded the Non-Morse MOS of 059. Arrived at
Det 27 (Manzarali Station) on 26 Znovember 1960 and departed 12 October 1962. Arrived at Fort
Hamilton, NY on 12 October 1962 and received his DD-214 on 17 October 1962. Was promoted to PFC
E-3 on 14 September 1960 at Devens; to SP4 E-4 on 1 August 1961 and to SP5 E-5 on 14 March 1962 at
Det 27. Started receiving P-1 pay on 1 May 1962 and P-2 on 1 August 1962. Jack re-registered with the
Draft Board on 19 October 1962 at Lewistown, PA. This information was extracted his DA Pam 21-8
which outlined Jack Shade's future obligations and benefits to which he was entitled.
See DOOL#153 for photo's of Jack and Gerna Shade.:
PFC Jack Shade was a member of HQ Co until his Security Clearance arrived in December 1961. The CO's
in Hq's Co were CPT's Forrest E. Clark and Mark Diggory. . He submitted the below shown DD 31
request for 15 days of leave to go to Germany 16-30 May 1961. In December January 1962 he took
another 15 days leave, but this time to Athens. During 1-15 May 1962 he was in Germany again. During
1-15 August 1962 he was in Athens, Greece again. CPT Gerald G. Gibbs, Jr was the CO of Opns Co after
Sprehe.



Jack Shade kept track of the loans that he made on the back of the above shown Det 27 NCO Club cards.
Hand printed on the back of the April 1962 card was: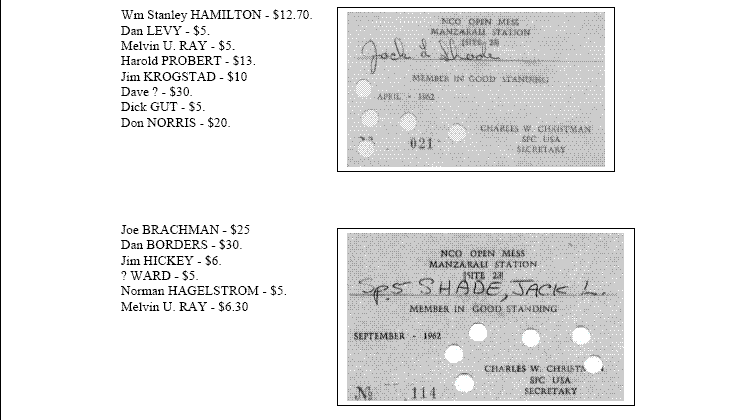 Many stories have been written about the broken TREES at Manzarali Station in the early 1960's. Jack
Shade sent me the two photo's that are included in Roy Springmeyer's entry above. The tree photo's were
taken during the winter of 1960.

SPANO, Ken YOB 1941 RA14770498 E3-E5 058 TK#1Det 27, FE62-JA64, (Alice), 1015 S.
Holiday Dr., Dadeville, AL 36853, 256-825-4227, kspano1@charter.net – Please note new email
address.

WAGNER, Ed, YOB: 1939, 058 Det 27, SE62-AU64, (Phyllis), 12 Juneau Pl., Longmont, CO 80501,
303-776-8690, phyllisedwagner@juno.com - It was good to see Jeff Wadley's picture in
DOOL#184. I remember him well and would know him if I saw him today. His picture shows that
he has aged well--not like most of the rest of us. Thanks for all you do!!! Ed Wagner Det.27 62-64.

WHITE, Paul, YOB: 1939, RA15565498, E3-E5, 058, Tk#1, Det 27, JL60-JL62, (Sandra), 412 Center
St., Erlanger, KY 41018, swhite10@insightbb.com - Elder - I think the people who served in Det 27 and
Det 66 would like to see what Ankara looks like today.
If so, go to: http://www.wowturkey.com/forum/viewtopic.php?t=12914 . The best way is to copy the
address and paste it into your browser and hit enter. I have spent hours on this site and was amazed as to
how the city has changed, the place is just beautiful. The only problem with the site is all the type is in
Turkish and I did spend a lot of time on the Turkish to English dictionary site. Have a healthy and happy
2006. We had a nice holiday season and all is well in the White house. I was just thinking of the old Turk
barber that would cut your hair and eat raw garlic as he cut and talked. The smell of garlic would curl what
hair was left on your head. He was the larger of the two barbers and most of the guys would wait for the
other barber rather than go with that smell. I must close now so I can feed the wife her breakfast so I'll talk
to you later. Your old friend Paul !