DOOL # 151 May 30, 2005.
MAIL-call - PRESERVING FORGOTTEN MEMORIES
This newsletter is intended only for the use of the ASA TURKEY Veteran's. All ASA veterans are welcome to contribute to the DAYS OF OUR TURKEY LIVES. I welcome articles, BIO's, stories, etc and certainly hope that all ASA Turkey Vet's will contribute and make the newsletter worthwhile. You can write whatever message you would like, and it will show up right here for you to share with the ASA Turkey group! I will respond to all e-mails and will assist whenever needed, but reserve the right to edit for content and clarity and welcome any errors that may appear herein. Thank you, Elder RC Green, aka gH (asagreenhornet@yahoo.com)
The Editor: GREEN, Elder RC (gH), YOB: 1936, RA13513638, E7, 982/98C, Det 27, 1-15MY61, Det 120, MY-JL65, Det 27, JN66-OC67 & Det 4-4, OC67-NO68, (Patty), 3094 Warren Rd., Indiana, PA 15701, 724-349-7395, asagreenhornet@yahoo.com Ret 1SG, E8
TAPS
VANOOSTEN, Adrianus, COL, Commander, Det 83 & Det 27, 60-62, DOB: 9 March 1911, DOD: September 1979 at Aurora, CO, SSN 357-01-1917 issued Illinois. No information is known about the life and times of Adrianus Vanoosten except that he was a career army officer who distinguished himself as a survivor of the Bataan Death March in the Philippines in April 1942..
Vanoosten is a Dutch name and is sometimes spelled Van Oosten.
Colonel Vanoosten was not an ASA officer and DID NOT have a TOP SECRET CRYPTO security clearance. Van Oosten's was assigned to Det 83 in Ankara in early 1960. His assignment to the ASA and to Turkey must have been because of his senior rank to handle future problems, maintain and enhance the friendly relations with the troops and the Turkish government. It is believed that Det 83 was set up as a buffer to coordinate potential ASA problems and after a short existence was deactivated and Colonel Van Oosten was transferred to Det 27 as the commander. The ASA commanders in Turkey had developed a real dislike for Col Van Oosten, probably because he had no ASA background. Whenever Van Oosten flew to Det 4 for a visit, the Det 4 commander would closet himself in the operations area, where van Oosten was not cleared to enter.
Zip Hargus informs that Col Van Oosten was the Det 83 Commander and as such was the senior ASA Officer in Turkey when he got to Det 27 in December 1960. He was one of the Bataan Death March Survivors and was concerned about the boot care and condition of everyone assigned to Det 27. In early 1961 Vanoosten became the Commander of Det 27 Zip remembers the "hate campaign" in the fall of 1961. The low point was when Col. Van Oosten ordered everyone to wear their uniforms to the Thanksgiving dinner in the Mess Hall. Very few EM chose to do so. Most of us went to town or ate in the NCO Club – in civvies. Actually, Zip had mixed emotions showing the Turks that we were less than patriotic that day. It wasn't about being ashamed of their uniforms. It was resentment that boiled over when they had to "stand to it" on our holiday. Zip now says that it seems silly now, but that's how he remember it. It was about this time that the Manzarali Mauler newsletter was first issued on a MILL in the 058 section of operations.
In 1941 Vanoosten was assigned to the 1st Battalion of the 45th Infantry Regiment in the Philippines. The 1st Battalion consisted primarily of enlisted Pilipinos Scouts under the command of American officers. One of those officers was Adrianus Vanoosten, a young 31 year old officer who was filling a LtCol slot and soon was promoted to LtCol. Vanoosten's infantry unit fought valiantly but surrendered on 9 April 1942. Any prisoner found with Japanese equipment or other souvenirs was immediately executed. The captured American and Philippine troops were subjected to the infamous Death March under the orders from Japanese General Masaharu Homma that began at Mariveles on 10 April 1942 and lasted for a week at Camp O'Donnell. The Bataan Death March was Gen. Homma's revenge on the heroic survivors of Bataan and Corregidor.
In the course of the Death March, Vanoosten witnessed thousands of POW's being either murdered or died from ill-treatment by their Japanese guards. During the surrender discussions relating to Bataan, General Homma ordered that the captured troops would have to march from Bataan to their place of imprisonment at Camp O'Donnell, a distance of about 100 miles. General King pointed out to the Japanese commander that his troops had been on half rations since January 1942, and that all were starving and many were sick. He requested permission to drive the prisoners of war to Camp O'Donnell in American army trucks. Still smarting from the rebuke he had received from Imperial General Headquarters in Tokyo and his demotion from overall command in the Philippines, Homma curtly dismissed King's request.
During this hellish march, Vanoosten witnessed the sick and starving POW's being beaten randomly and denied water. Any POW who asked for water was executed on the spot. When the Japanese guards needed a rest, Vanoosten and the others POW's were forced to sit in the hot sun without any head covering. Any POW who fell behind or collapsed from heat, exhaustion and lack of water, was executed on the spot unless his comrades could carry him. During the week-long march, prisoners were denied food apart from a few handfuls of contaminated rice. At night, the POW's were packed so tightly into enclosures that they were almost unable to move.
American and Philippine troops suffered 16,000 casualties in the Battle of the Philippines. Of 20,000 American troops captured by the Japanese in the Philippines, about half died in captivity before the Pacific War ended. Some were murdered, others died from starvation, sickness or brutal treatment. General Wainwright remained in Japanese prison camps until the end of the war in 1945. He emerged from captivity resembling little more than a skeleton. He was awarded a hero's welcome in the United States, promoted to full general and finally awarded the Medal of Honor. Adrianus Vanoosten was a friend of General Wainwright. After the defeat of Japan in 1945, Lieutenant General Homma was charged as a war criminal for his part in the brutal deaths of American and Philippine prisoners of war during the Bataan Death March. He was convicted of war crimes in 1946 and executed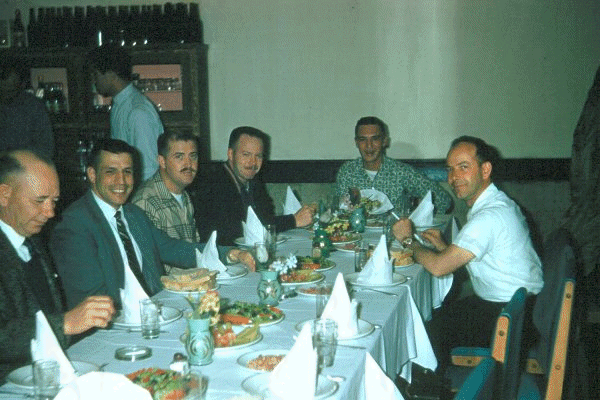 The above photo was taken at the Det 4 DOOM sometime in 1961 and is courtesy of ex-CW4 Alvy Lindsey who served at Det 4 at Samsun and Sinop in 1956 when ASA personnel were first assigned to Turkey. Al later served a year at Sinop in 1960-61 as the Maintenance Officer. The officers did much of their relaxing at the small club in the BOQ. It was known as the DOOM Club, aka Diogenes Officers Open Mess. It had a small bar, some lounge chairs and a few tables and there was a bridge game going every night. One door led to a patio with a fine view of the Black Sea. The dining room was just off the club and was used as a movie theater most evenings. Ahmet, a Turkish national and a fine gentleman, was the steward of the club. The club also had two 5 and 10 slot machines that were always being played. It could be 0300 and you'd find someone playing the slots. The club was making so much money, we began giving away drinks some nights to keep the club revenues down. We were eventually cited for giving out free drinks and were ordered to give our excess revenues to ASA HQ's. Obie Haugen was the club officer and in charge of keeping the slots, which frequently broke down, in operations. He set the machines to pay off more often, but they still produced about $400 a month. We were frankly pleased when one or both broke down
Photo ID, L-R: CW2 Charles M. Herron, C/C OIC; CPT Gerard Dirkx, Opns O.; CPT Dick Mock; CPT Rodney K. Roberts; 2LT Charles T. Stevenson, Ops B, OIC and CW2 Dalton E. Seeney. Three of the above six are deceased as follows:
HERRON, Charles M (Chuck) W2207323 W2 C/C Det 4 60-61, DOB: 26 June 1921 DOD: 15 April 2000 at Del Rio, Texas. SSN: 178-14-8662 issued Pennsylvania. No further details available.
ROBERTS, Rodney Kent, 2LT-1LT, Det 4, 60-61, DOB: 18 June 1932, DOD: 4 December 1991, SSN: 337-28-2085 issued Illinois - Ret COL & friend of LTC Jaffe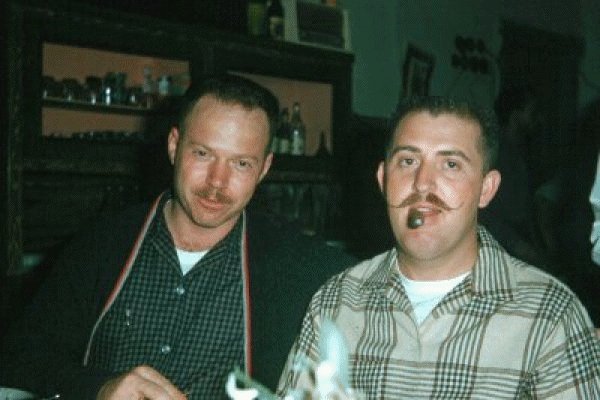 Capt Dick Mock and Captain Rodney K. Roberts
Photo by CWO Al Lindsey
In the Spring of 1961 1Lt Roberts was a member of the Det 4 Volleyball team that won the Black Sea Championship by beating the USAF teams from Samsun and Trabson. Not much of a league, but it got Roberts and the other team members off The Hill to Athens, Greece for the 1961 MSC tournament.. While at Samsun waiting for air transport to Athens Samsun told us they'd make a plane available for the trip to Athens. I was the team captain and the only other team member that I remember is Lt. Rodney Kent Roberts.
The team arrived at Samsun at the appointed hour, only to find the flight was delayed. That was not unusual , so a few extra hours was built into the departure schedule. While waiting, a few team members wanted to take Roberts to the Karahani, a complex of whorehouses down by the docks. To enter this dead-end street of row houses, one had to pass through a police checkpoint where everyone was frisked. Once inside, we were free to walk the street and enter the houses, where the madams paraded their women for inspections and selection. Most were very low class, but there were a few choice gals. Some of them had been sentenced there by the courts to pay off fines for other offenses. There was a story that an airline hostess was once sentenced to the Karahani and paid off her fine in no time. Roberts was kicked out of a few places because he wasn't participating. In some houses the woman just sat in the front window showing their wares. It was very degrading. The aircraft never did arrive, so the team took a Turkish bus over 300 miles of winding mountain roads from Samsun to Ankara. It was a white-knuckled ride. In Ankara, they went to the USAF Base and caught a flight to Athens, just in time to make the tournament. Roberts and Aines were put up in a small hotel on the waterfront outside Athens. The first night the Det 4 team was soundly beaten by the USAF team from Wheelis Air Force Base in Libya and on the 2nd day lost our second game in the double-elimination tournament, so after another day of sightseeing in Athens, the team headed back to the misery of The Hill.
SEENEY, Dalton E., W2203660, CW2 , T/A OIC, Det 4, 60-61, DOB 19 August 1923 DOD 22 May 1999 at Honolulu, HI., SSN: 222-10-7300 issued Delaware
Two other officers who were at Sinop when this photo was taken in 1961 have also passed away as follows:
ALLEN, Sterling J., CW3, W2144083, Supply Det 4, 60-61, DOB: 25 May 1916, DOD: February 1981 at Arlington, VA., SSN: 224-12-5139 issued Virginia. This was his only assignment to the ASA. Not much is known about Sterling (Al) Allen except that according to ex-Captain Donald S. Aines Allen was perhaps
the unluckiest, or perhaps luckiest, man on The Hill was CW3 Sterling "Al" Allen. I can recall two incidents in which he cheated death, or avoided serious injury. In the middle of winter 1961, Sterling and I were heading to Ankara in the convoy, both of us riding in the cab of an Army truck driven by a Turk. We were heading up a pass in the second range of mountains when the convoy was brought to a halt by snow and heavy winds. It was a gravel road with a drop of about 200 feet on the left with no guardrails. The driver set the brake, but the truck began to slip backward and to the left. I was sitting on the passenger side and baled out with Sterling, who was sitting in the middle, holding onto me for dear life. The driver also made it out, but the truck didn't stop sliding until the left wheels of both rear axles were hanging out over the edge of the cliff. All the trucks had winches, so we were able to get it back on the road and continue our journey. The other incident was the 30 April 1961 L-20 crash
ARTHIN, Samuel H., (Sam), W2148099, CW3, Pers O & A/Adj Det 4, 60-61, DOB: 21 February 1919 DOD: 12 May 1992, SSN: 160-09-4322 issued Pennsylvania. Det 4 was Arthin's only ASA assignment.
CWO Sam Arthen was my personnel officer, a knowledgeable, efficient and imaginative man. He penned lyrics set to the tune of the "Whiffen-Poof Song" to describe life at Sinop:
"From a table down at Ali's, the the house where Ahmet dwells,
To that dear old Yeni bar we loved so well,
Come the DOOMsters all assembled with their Raki raised on high,
And the magic of their singing cast a spell.
Yes the magic of their singing of the songs we loved the best,
Iscalarii, Mustafati and all the rest,
We will serenade our Ali; spend our year on The Hill,
Then be port called and forgotten with the rest.
We were poor shiska-bobs who were sent this way,
Merhaba, Merhaba, Merhaba.
We are Black Sea shiska-bobs who were sent astray,
Merhaba, Merhaba, Merhaba.
Gentleman DOOMsters from the Black Sea,
Doomed from here to Eternity, Pentagon have mercy on such as we,
Merhaba, Merhaba, Merhaba"
To provide some translation, Ali's was a Sinop bar, "yeni" means new, "Raki" is a potent Turkish drink and "merhaba" means hello.
KETCHERSID, Foy R., RW2209251, CW2, Pilot, Det 4, 60-61, DOB: 4 September 1923 DOD 24 March 2003 at Colorado Springs, El Paso County, CO, SSN: 448-18-7709 issued OK
KETCHERSID, Viola, wife of Foy, DOB: 19SE1925 DOD: 16JL1997 at Colorado Sprgs, El Paso County, CO, SSN: 504-22-4639 iss South Dakota
From Foy Ketchersid's nephew, Mike Ketchersid: [edited] Mr. Green, It was a pleasure to talk to you about my Uncle Foy. A few months before his death, my Dad Kenneth (Foy's younger brother) and I was able to spend some time with Foy in Colorado Springs. At that time he was very ill and was quick to need rest after just a short visit. As is often the case, I was sadden that I did not get to spend more time with this extraordinary man. I did visit my dad on Sunday regarding Uncle Foy. The only information he had to offer was his obituary which he could not locate. I will check back with him later in the week. Sorry that I could not be of more assistance. Uncle Foy was a person that I barely knew. When my dad locates any additional info, I will pass it along. Best Regards, Mike Ketchersid, Chief Engr, KTUZ TV/DT, Tyler Broadcasting,
Oklahoma City, OK,
The 1959-60 Det 4 welcoming letter explained that Det 4 was assigned a L-20 aircraft that transported mail, personnel and a few supplies to the Sinop airport. It is believed that Foy Ketchersid was the first L-20 pilot assigned and that Ketch also landed the L-20 on the road leading up the hill to Det 27.
Ketch was authorized to have his family in Ankara, where they lived in an apartment owned by a Turkish family. One night Ketch's car was parked in front of the apartment, where it was sideswiped by a Turk. It was clear who was at fault, but a Turkish court determined Ketch was 40% at fault on the assumption that the accident would not have occurred had he not been in the country. One of the first things that new personnel assigned to Turkey were told, when entering a taxi was negotiate the fare to your destination. Then, in the event of an accident, you was to put the fare and a handsome tip in the front seat and quietly walk away and get into the same predicament that Foy Ketchersid encountered.
Det 4 was authorized 2 pilots, but at the time there was only one available. He was CW2 Foy Ketchersid, who had been a B-29 pilot in WWII. The next day Capt (Dr.) Roger Reitz and I were scheduled to fly to Sinop, with CW4 Obie Haugen staying behind a few days to meet contacts in Ankara and at Det 27. We boarded an L-20, a sturdy, single-engined aircraft made by the deHaviland Co. in Canada. It had proven itself a reliable plane, serving in the bush country of Canada and Alaska. It could even be fitted with skis or floats, as conditions demanded. Foy was the pilot and we were joined by a couple of EM for the flight. Even under the best conditions, the flight to Sinop was not a milk run. It required flying over 3 rugged mountain ranges and finding a safe place to land in an emergency would be extremely difficult. Violent storms could brew up with little warning, most of them blowing in off the Black Sea. Frequently, flights would take off from Ankara under ideal conditions, only to have to turn back because of foul weather. It was crystal clear when the otter took off, and 2 mountain ranges were cleared without difficulty. Then a storm moved in from the west. Foy was confident we could make Sinop before the weather really closed in. He contacted "The Hill" at Det 4 and told them he would circle until he found a break in the clouds which had socked in the airfield. He eventually found that break and nosed the plane down for an approach to the short, grassy field. Ketch, as we called Foy, put the plane down and reversed the prop, but we weren't slowing down. There was a fence at the end of the airstrip intended to keep cattle off the field, and it was coming up fast. Ketch put full throttle to the engine, but those fence posts were starting to look like telephone poles as we lurched forward. The plane got airborne, but the gear caught the fence, knocking it down. Luckily, it wans't too sturdily constructed. Ketch brought the Beaver around for another try and this time, got the plane to stop. We oft-loaded and got into a vehicle for the 3-mile trip through Sinop to "The Hill."
[edited] Zip Hargus who was stationed at Det 27 from December 1960 until September 1962 remembers Mr. K as a great guy whose flying skills were legendary at Manzarali Station and made him a cult hero there. Mr. K often landed the L-20 Beaver aircraft on the road leading up the hill to the Det 27 front gate. One of the best stories of Mr K's escapades was when he buzzed the Det 27 HQ's building because he couldn't raise the MP's by radio to close the highway so he could land. The story grew daily, finally ending up as "he bounced the L-20's tires off the roof of HQs, dropping plaster on Col Van Oosten's desk. The rumor had it that Mr K was originally a Army Air Corps B-29 pilot who flew under the Golden Gate Bridge and was eased out as a disciplinary measure. Later he obtained a Warrant Officer billet and flew for ASA (triggering radar hits , etc). In April 1961 Mr K was flying from Manzarali to Sinop with 2 passengers when the aircraft iced up and lost power and had to crash land. Mr. K managed to pancake on a steep hillside and all walked away in good condition
[edited] ex-Captain Donald S. Aines, the Det 4, Adjutant, knew Foy Ketchersid better than any one else on the Hill. Ketch was a darn good pilot. During WWII he served as a commissioned officer as a B-29 pilot in the Army-Air Corps. One of Aines many duties at Det 4 was Air Traffic Controller and of guiding incoming aircraft to the grassy airstrip near Sinop. When Ketch's aircraft got in range of the hill, Ketch, would contact Aines and ask about conditions on the Hill, even though it was several miles from the strip. Being so near the Black Sea, dense fog was frequently a problem for incoming pilots. "How far can you see?" Ketch would ask. Aines would give Ketch his best vertical and horizontal guesstimates and Ketch would make a decision on whether to attempt a landing, or turn back to Ankara. On some bad days Aines could hear the plane's engine droning overhead and Ketch on the radio asking, "Do you hear me?....Am I coming closer or going further away?" Ketch would use the radio signal and a homing beacon and try and find a hole in the clouds.
Aines vividly remembers the day that Ketch did crash a L-20 aircraft on 30 April 1961 and that Capt John Hamlin and CW3 Sterling Allen owed their life to Ketch's flying skills. On the 30th Ketch and Aines made radio contact, but Ketch was far to the west and the transmission was garbled. Aines didn't know his exact position, but figured he was in the vicinity of the coastal range. Before the contact was lost, Ketch reported the wings were icing up and he was trying to get below the clouds to shake it off. It was several hours before Turkish authorities reported to Det 4 that a plane was down on a mountain north of the village of Kure, but they did not know if there were casualties. Aines primary concern was the men on board, but the plane was also carrying classified documents. Aines organized a 5 man rescue party that consisted of a jeep, a deuce and a half and a wrecker and they headed for Kastamonu, a town south of Kure. There was no road west from Sinop, so the rescue party had to take the long way, traveling the convoy route east to Gerze along the coastal plain, over the mountains by the Boyabat Pass and then west along a primitive road to Kastamonu. Aines checked in with the local police and learned all 3 men survived the crash and were at a local hospital and their injuries were not life-threatening. It was now late in the day and the rescue party could not reach the crash site before nightfall, so they visited the hospital and were briefed about the crash and the classified documents. The 2 passengers reported that Ketch had done a remarkable job, landing the L-20 on a grassy patch 2000 feet up a rocky mountain. The main gas tank under the passenger compartment caught fire, and all aboard managed to drag themselves to safety. They were on a rainy, windswept mountain in biting cold, injured and lost. The 3 headed down the mountain and the first person they met was a shepherd, who took them prisoner at gunpoint and prodded them down the mountain to a small village. By now their injuries were beginning to take a toll and the people of the village were also hostile, perhaps believing they were Russians, the traditional enemy of the Turks. The men were able to communicate that they were Americans and the tone of the villagers changed. Now they were treated like long lost relatives. The 3 were made comfortable and fed and arrange-ments were made to take them to Kastamonu, several miles to the south. As is often the case in Islamic countries, the men took care of the downed men, the women remaining in the background. On 1 May 1961, Aines arrived in Kastamonu and was promptly escorted to the governor's house, where the governor and his staff offered tea and confections and where they jibber-jabbered about the crash. Aines did not drink tea, but gulped down a couple glasses and kept a smile on his face. Though anxious to get to the crash site, the rescue party was invited to be guests at a parade marking the first anniversary of the overthrow of the previous government. Aines didn't want to insult the new regime, so he stood on the reviewing stand with the governor and his staff. Trying to observe protocol, they saluted whenever the governor raised his hand. As parades go, it wasn't much, but the locals seemed to enjoy themselves. Children marched to the reviewing stand, made a presentation and moved on. Farm tractors chugged by to great applause, followed by some parade floats.
With Ketch, Sterling Allen and Hamlin out of danger, Aines' main worry was the classified documents on the L-20. The parade had further delayed the rescue mission. Finally, the rescue team got on the road, or trail. They reached a small village where a group of men greeted them, "Hosh geldiniz! Hosh geldiniz (welcome), and tried to make meaningful conversation. While the woman peeked out from their huts. The mountain before them looked like rock monolith. The vehicles couldn't make it to the crash site, so the villagers provided horses for the trek up the mountain. Aines hadn't ridden a horse in a long time and this was more like riding a camel. The rain didn't help. The Turks had Aines up on the horse, which decided to head off in a trot. Within 20 yards Aines was off the horse with his ass in a mud puddle. The Turks at first appeared stunned, but Aines broke out in a laugh and they chimed in. Maybe they thought every American could ride a horse like Gene Autry. The Turks pushed Aines, a New York boy, back onto the horse and they headed for the next village at the base of the mountain. Here they were again greeted with great hospitality. All field jackets were taken off and dried by fireplaces and tea and boiled eggs were offered. Aines really wanted to get up the mountain and the villagers soon provided them with a new set of guides. After about 2 hours they reached the crash site. All that was left was the charred remains of the L-20's engine, the tips of the wings and the plane's tail assembly. Searching through the rubble the registry lock and serial number for the classified documents were found. The rest had been destroyed.
It was near dusk, so we headed down the mountain, but the guides took us down a different path and, within a quarter mile, we came to our Turk Jeep driver. Why we had to ride horses several miles to the crash site, I'll never understand. Perhaps it was more entertaining to the Turks.
It was a difficult trip to Katasmonu, where we joined the rest of the party.
By this time Ketch, Al and Hamlin had been evacuated to Ankara. Though it was quite late, Aines decided to return to Sinop that night and make his report. Also lost on the flight were several potted plants, which Aines had ordered to spruce up the tables in the EM mess hall. They were burned in the crash, but, Al, Ketch and Hamilton were alive.
Al Lindsey remembers Foy Ketchersid as the well known Det 4 pilot and the time Ketch was forced to crash land the L-20 Beaver aircraft in April 1961. The L-20 burned and was a total loss, along with some mail and a couple of classified pouches. There were 3 people aboard, CW2 Foy Ketchersid, the pilot; CW3 Sterling J. Allen, and Capt. John T. Hamlin. The flight originated in Ankara and encountered icing, before Ketch could get out of the icing conditions they were close to the ground, in mountains, and Ketch elected to land in a small clearing. Ketch later told me that there was so much ice on the prop it was totally ineffective and it looked like a ball bat. When people went back to the crash site they went by jeep a while, hired burros for a while, then walked the rest of the way and when they got there most of the wreck was gone. After the crash and on one of the flights soon after the crash Ketchersid had another emergency. I'm not sure but I don't think he made it to Sinop that day. Ketch's Chief Mechanic (a Sergeant whose name I can't remember) was flying with him and not too far into the flight the engine failed. A quick scan of the engine instruments told them the fuel pump had failed as there was no fuel pressure. The Beaver has a 'back-up' fuel pump that's hand operated (called a wobble pump) and located near the floor of the cockpit. The mechanic started operating the hand pump, they got a little fuel pressure but couldn't get enough pressure for full engine power. The mechanic found that the harder and faster he operated the pump, the more engine power was available. They did make it back to the Ankara airport and found that the main fuel pump diaphragm had ruptured and the reason the hand pump operation was below standard was that part of the fuel was going overboard through the ruptured diaphragm.
SPREHE, Alwin H., (AHS & Joe) DOB: 1925 DOD: 22 April 2005, US/RA/RO46040610 & 01938459 1LT-CPT T/A OIC & CO Ops Co Det 27, 61-63, & Maj Det 4, MY68-MY69, (Priscilla), 12415 Stafford Ln., Bowie, MD 20715, 301-262-4733, gg12415@comcast.net –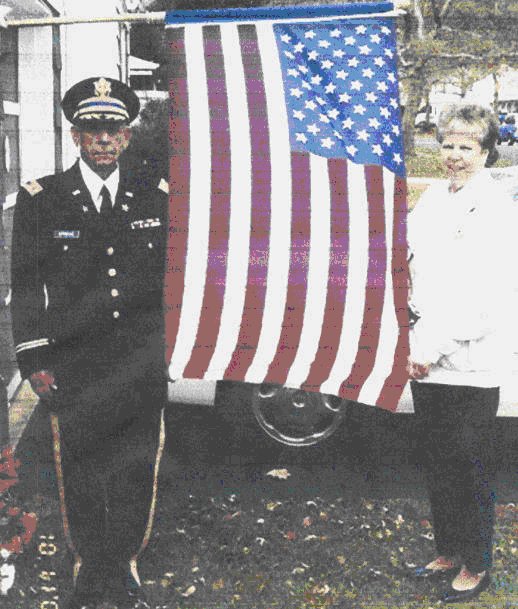 Dear Elder, Just wanted to let you know that my husband, Alwin H. Sprehe passed away on April 22, 2005 after losing his battle with cancer. The triple by-pass never took place after the cancer was discovered. He died peacefully at a Hospice House after only being there five hours after being transferred from Walter Reed. Our three children, Cindy, Marilyn and Stephen and daughter-in-law Marianne as well as myself were all at his bedside. It was such a quiet place and I only have the highest regard for those Hospice nurses. I am sorry that he never got around to doing a BIO for you. Best regards, Priscilla Sprehe
I first contacted the Sprehe's on 25 May 2003 and since that date Priscilla made sure to print a copy of the DAYS OF OUR LIVES and give it to the ex-Major. In fact she posted the DOOL's in a 3-ring notebook and she reports that he would often re-read the DOOL's and if I was late with an edition – he would have her send me an email to see if they were missing an issue. Alwin Sprehe's initials are AHS and because it also was the initials for the ASA Hq's at Arlington Hall Station he was commonly referred to as AHS. AHS enlisted in the Army in 1945 and was trained at the ASA Training Center at Carlisle Barracks. He served 12 years as an EM and had attained the rank of Master Sergeant E7 when he received a direct commission to 1LT while stationed in Berlin. As noted above Priscilla tried her best to get AHS to write his BIO and she'd type it and send it to me for inclusion in a DOOL. AHS was stubborn and never learned to use the computer. They met at MIT where Joe was an enlisted ROTC instructor and she was working there. Joe is the name that he used when they met and from them on – she always called him Joe. They celebrated their 52nd year of marriage on 24 January 2005 as they were married on that date in 1953 at Cambridge, MA. Joe was a native of Posen, Illinois and graduated from Okawville High School. He then worked as a farmer and was granted a farming deferment and when that ran out was drafted into the army in 1944. He later re-upped and went from E1 to E7 in 9 years. In December 1953 they were sent to Berlin Germany where Joe received a direct commission to First Lieutenant and retired in 1972 as a Major. Served two tours in Turkey. The 1st was at Det 27 where he was the T/A OIC and later as the CO of Operations Company. The family accompanied him to Ankara where they lived on the economy before moving into government quarters at Manzarali Station. In 1968 was posted to Det 4 where he served as the Operations Officer. They have lived in Bowie, Maryland for 39 years and Priscilla informs that she will be moving to Mesa, Arizona soon. Joe was scheduled to undergo triple by-pass on 17 December 2004 at Walter Reed, but subsequent tests revealed cancer cells and it was a downhill survival battle for Joe. Priscilla reports that Joe was a patriot and was a member of the VFW and American Legion in Bowie. At the VFW and Legion he was known by all as Major and both participated in his funeral. He was layed out in his Dress Blues and was buried in the Chelterham Cemetery.
Email from Peter Gritis: [edited] Dear Al, - Joe Sprehe and I worked together both at Det 27 and the 320th USASA Bn at Bad Aibling, Germany. In both assignments Joe exhibited a knack for having great rapport with the troops. He had a talent for having the men do their jobs without browbeating or threats. One incident at Bad Aibling stands out. Since the classified operations area was off limits to the uncleared German cleaning personnel, several of the lowest rank and newly assigned operators on the nite shift were detailed to our own clean-up crew. Grafitti was a problem on the walls of the stalls in the latrine. Question: How to remove the old grafitti and preclude future "Pulitzer Prize" additions??? Joe issued a paint bucket and brush to our cleaning crew to be used every day to cover the grafitti. Somehow, word circulated that the clean-up crew did not appreciate the additional workload of being part time painters and the grafitti authors would be "taken care of". Subsequently the workload of the cleaning crew took a sharp drop and the latrine was habitable again. Mission accomplished without fuss or furor.
Eldon Screws entry in Memory Book: [edited] There was much speculation about what job I would get when I arrived at Det 4. . Sfc Floyd Keefer (05K) was leaving to retire so I thought it was a pretty good bet that I would get his job as NCIOC of the Radio Printer Section. No such luck! Rumors were rampant and by the time I got around to the operations in-briefing, it was anyone's guess. When my talk with Maj Alwin H. Sprehe was over, he said I'm making you the Operations Sergeant. With his initials A.H.S., we all fondly called him Mr. AHS as in Arlington Hall Station. I told him that I knew that I was not the ranking E-7 on the HILL and asked him what he was going to do about those who ranked me (most of them did). His reply was "After you've been here 2 weeks you'll see why I picked you instead of one of them". Some were too short, etc. I found Sprehe to be a very jovial person who favored Alfred Hitchcock in appearance and had a very dry sense of humor. He had a line and staff board on the wall behind his desk that was embossagraphed with yellow letters. One of the first things he asked me to do was to get the letters changed to blue. This was back when there was a commercial on TV about a tooth paste. After we were able to get it changed, he said "Now they will wonder where the yellow went". I saw in one of the DOOLs that he had been at Det 27 once upon a time.
THE 2005 ASA TURKEY REUNION IN SAN ANTONIO, TEXAS
Menger Hotel, 1-800-345-9285,
29 September - 2 October 2005
The registration for the ASA Turkey reunion is SLOWLY gaining in numbers and makes me wonder what does it take to make veteran's attend as San Antonio has so much to offer everyone. Now is the time to let the years roll back and come alive at San Antonio. Many vet's have told me, "If I had to relive any point in my life it would be the time spent in Turkey. The chatter starts flowing freely and fosters life-long friendships even though this might be the first time meeting those ex-ASAers. Others have told me that there are times in one's life when we make our closest friends and create our most powerful and profound memories and TURKEY was definitely one of those times. Other veterans tell me that the ASA Turkey reunion is a fantastic way to meet vet's from the other ASA Detachments in Turkey and to hear first hand their experiences. For some its all too easy to get caught up in sightseeing that they forget to have a good time rehashing old TURKEY times and indelible memories. While others feeling overwhelmed by togetherness can spend nearly all the free time – reminiscing, interacting and having spontaneous get togethers in the hospitality room. Many vets bring their slides and show them while enthusiastically narrating each slide in the hospitality room.
NOTICE: It would be nice to know everyones flight arrival time at the San Antonio International Airport so that the arrivals can bus or car pool to the Menger hotel.
2005 ASA TURKEY REUNION
RESERVATIONS TO DATE

ANDREWS, Frank & Mary, Det 4, SE59-OC60, Jacksonville, AL., 256-782-0866, hoggramps@juno.com
ANTONELLO, Tony & Val, Det-27, Jul 65-Feb 68, Det-4, Sep69-Sep70, Burke, VA., 703-239-1739, tonyvalanton@aol.com
ASPINWALL, Paul C., Det 4, 12JA65-22DE65, Madison, 608-831-0670, asp@us.ibm.com
BARNDT, Ernest & Fran, Det 4, MR56-MY57 & E5-WO1, Det 27, MR59-JL61, Eagle River, AK, 907-694-3645, barndt@alaska.net
BENDER, Bill & Dawn, Det 4-4 JA70-JL71, Ocala, FL., 352-854-9122, wddcbender@netzero.net
BERGMANN, Chuck & Helen, Det 27, MY66-DE67, Bay Village, OH, 440-871-5346, cbergmann@insp-eng.com
CARRICK, Ernie & Betty, Det 4, NO57-OC58, Huntsville, AL 256-852- 6180, cell 256-656-2007, ecbccar@surfbest.net
DUNNAM, Gary & Sharon, Det 27 & 4-4, Victoria, TX., 361-575-2160, dunsteen@cox-internet.com
ELDRIDGE, Frank & Arlie, Det 4, FE61-MR62, Humble, TX, 281-540-3478, arlieins2@earthlink.net
ERICKSON, Ron & Kathy, Det 27, MY61-DE62, Independence, MO, 816-373-3349, rke3349@cs.com
GLUBKA, Roger & Michelle, Det 27, FE64-JL65, El Paso, TX., 915-562-9560, rglubka@elp.rr.com
GREEN, Elder RC & Patty, Det 27, 1-15MY61, JN66-OC67 & 4-4, OC67-NO68, Indiana, PA., 724-349-7395, asagreenhornet@yahoo.com
HAGAMON, John E., Det 27, 62-63, San Antonio, TX., 210-829-8872, johnhagamon@aol.com Ret E8
HUNT, Carlos E & Frankie, Det 4, 19MR58-MR59, Henderson, TX., 903-889-2391, cehunt79@aol.com
ISLER, Rod & Kyuhee, Det 4-4,15OC68-70, Annapolis, MD., 410-849-3482, goaisler@aol.com Ret Maj Gen (2-Star)
KJOLLER, Jon & Darlene, Det 4, JL58-AU59, New Braunfels, TX., 830-625-1064, kjoller@the-cia.net
LADY, Ken & Donna, Det 27, 61-62, Santa Monica, CA., 310-828-3139, kelady@adelphia.net
LEVY, Dan, 058, Tk#4, Det 27, JL61-DE62, Many, LA., 318-586-7584 & PO Box 217, Negret, LA., no email
MONTEITH, Bob & Carole, Det 27, JL65-JL67, Silver Lake, OH., bobbo47@aol.com
MURPHY, Bob & Peg, Det 27, AP60-AP62 and TDY Det 4, MY60, Glen Burnie, MD., 410-255-0320, murphyra@cablespeed.com
NEARPASS, Bob & Lorraine, Det 27, DE64-DE66, Belvidere, NJ., 908-475-3461, nearpass@accessgate.net
SACK, Bob & Sue, Det 4, 68-69, Walla Walla, WA., 509-522-1108, susank@bmi.net
SALCIDO, Don, 058 Det 27, 66-AU67, San Dego, CA., 619-207-6054, dsalcido2@cox.net
*SCHOPPE, Dan & Marjorie, Det 27, AP65-OC67, Leander, TX., mschoppe@onr.com
SIMONS, Bill, Det 4, 59-60, Southampton, NJ., 609-859-9483, bsimons@pics.com
*STOLP, Gary & Phyllis, Det 27 OC64-Dec 67, San Antonio, TX., 210-496-9365, poostolp@yahoo.com
TAVERNETTI, Dave & Sue, Det 27, MR62-SE63, King City, CA., 831-385-4458, tavernetti@redshift.com
*WILLINGHAM, Ted & Sue, Det 27, SE66-JN68, 3 Chestnut St., Easthampton, MA., 413-527-9687 tedw@the-spa.com
*WINKLER, Harold & Bobbie, Det 4, MY60-MY61, Cincinnati, OH, 513-489-5308, winklerh@msn.com
MAIL Call

ALEXANDER, Louis, Det 27, 60-62

BAILEY, Jack, Det 27, 61-63

BARNDT, Ernie, Det 4, 56-57 & Det 27, 59-61

BENDER, Bill, Det 4-4, 70-71

ENGLISH, Bern, Det 4, 66-67

FULTON, Don, Det 4, 67

GARLAND, Noel

GLUBKA, Roger, Det 27, 64-65

HARGUS, Zip, Det 27, 60-62

HINCKLEY, Edgar, Det 4, 59-60

LINDSEY, Al, Det 4, 56 & 60-61

McRANEY, Jeff, Det 4, 66 & 67-68

MIX, Lowell, Det 4, 62-63

SHADE, Jack, Det 27, 60-62

SIMONS, Bill, Det 4, 59-60

STUART, Bill, Det 27, 65-67

TARR, Don, Det 66, 66-67

WILSON, Roy, Det 4, 63-64

WINCH, Gary, Det 27, 62-64

WINKLER, Harold, Det 4, 60-61

THE 1968 EARLY RELEASE PROGRAM
In 1968 USASA personnel returning from a short tour assignment got released up to 150 days prior to
ETS. Prior to that it was 90 days early release.
"Congress keeps talking about drafting a Constitution for Iraq. Why don't we just give them ours?
It was written by a lot of really smart guys, it's worked for over 200 years and heck, we're not using it anymore."
ALEXANDER, Louis YOB 1940 RA E1-E5 058 Det 27, AU60-JL62, (Brookie), 7608 Harps Mill Rd, Raleigh, NC 27615, 919-844-9055, l-alexander@nc.rr.com Dan Levy informs that Louis Alexander served on the Manzarali NCO Club Bd of Governors. The following emails between Louis Alexander and Jack Shade is included for all to read: [edited] Hello Jack, I don't remember too much about my days at Det 27, but a few things you said triggered my memory a little. I remember when Kennedy went to get that car in Germany. He was going to sell it because of the high demand for cars in Turkey (for taxis I suppose). I don't remember if he sold it or kept it and I think the military would only allow you to do this one time. I also went to Athens with Jerry Hickey. What I remember vividly is that he hired two girls to keep him company for a few days. I had lots of pictures but had to leave my camera when we made a fast exit out of Athens, ha. I hope Jerry Hickey reads this and chuckles about his old self. I mean who can blame a 20 year old for some of the stuff we did back them. Chicken Hawk Coyle sounds familiar, was he a big time gambler? If he was, then I do remember that he would always be at the end of the pay line with his little black book, collecting from everybody, he rarely lost. Well Jack, I hope this triggered some of your memories and thanks for the e-mail. Best regards, Louis
BAILEY, Afton D., (Jack), RA18598830, E4-E5, 059, Det 27, SE61-JN63, 720 Fairway Dr., Paris, TX 75460, 830-377-8899, binco@neto.com & see http://www.tuslog.g2s.com/bailey/bailey.htm.
THANK YOU very much for "Days of Our Lives 150" Brings back many happy memories of Army friends, Turkey, ASA, Manzarali Station. I worked at San Antonio's riverwalk Hilton 1974--2003. Now that I've moved back to my native state of Oklahoma -- ASA vets schedule a reunion in SA. And, I can't come, darn it. Enjoy the River Walk. Cheers ! Jack Bailey, 059 & teletype op. (AFTON D. BAILEY ) Box 106, Owasso, OK 74055, Manzarali - Sept.61--June 63
BARNDT, Ernest YOB 1935 RA13474888 E3-E4 631 Det 4, MR56-MY57 & E5-WO1, Det 27, MR59-JL61, (Fran), 18107 Meadow Creek Dr., Eagle River, AK 99577, 907-694-3645 & cell 907-227-2455, barndt@alaska.net - Hi Elder, well here we are into another year and another annual visit home to PA. We expect to be home 25 May through 9 June. However, we plan to spend the last 3 days or so at my Sister's home in Virginia. I thought we might get together for lunch or just a visit. As you can see, we are already registered for the reunion and hope to see more signed up soon. We did get in contact with Leroy, our best man at the wedding, and he stated he was interested in attending. Hopefully Jim Houghton will also attend. Anyway, just wanted you to know we will be in the area. Ernie & Fran.
BENDER, Bill YOB: 1949 RA11873516 E3-E4 05K Det 4-4 JA70-JL71, (Dawn), 6700 SW 113th Pl., Ocala, FL 34476, 352-854-9122, 1-800-877-3367, wddcbender@netzero.net - Dear Elder: I sure hope you wanted the ring for Patty as I bought a woman's ring while visiting the Grand Bazaar! I negotiated pricing for a good half hour, drank two glasses of cay and managed to get the ring for $25.00. Send me your mailing address and I'll send it out to you. I also am the proud owner of a real Turkish flag. My friends gave it to me after I explained about our reunion. I also will have some pictures of Karamursel taken from the hill above the base. Due to heavy security I couldn't get on the base. So I did what people do here to see into Nellis AFB (Area 51) I went up to the hill overlooking the base and took some pictures! I also brought back samples of the latest currency and the stuff it replaced. (the million lira notes) We're looking forward to seeing everyone at the 2005 reunion. Regards, Bill

ENGLISH, Bernard (Bern) YOB 1941 RA15730903 E4-E5 98GRU Det 4, MY66-MY67, (Kim), 9870 Lakewood Dr., Indianapolis, IN 46280, 317-848-0387, benglish@indy.rr.com - Dear Elder: In DOOL #150, the last item, by J. Michael Wood, he refers to a write-up of the Soyuz-1 spacecraft disaster of April 1967. I missed that write-up. Could you email me a copy of it? Thanks. Actually, I didn't get to work on the Soyuz-1 program. We were told to expect a launch like this quite a long time in advance. We waited and waited. In the meantime, I put a lot of effort into preparing to work on any intercepts we might get of voice traffic to and from the Soyuz, mostly studying specialized vocabulary. It was a big disappointment to me that they launched right after I ended my tour in Sinop. I always wanted to learn more about what happened in this disaster. Thanks

FULTON, Donald G., YOB: ?, RA19889202, E4, 05H2HS3YA, Det 4, JA67-DE67, (Linda), 426 Mesa Loop, San Antonio, Texas 78258, 210-481-9565, dgfulton@earthlink.net oneshamash@sbcglobal.net - Thanks for sending the DOOL, its enjoyable to read. I was reading about Angelo Teti on page 9 and read where he flew to Samsun on THY and then took a flight to Sinop on the Otter. Don't look now, but Sinop doesn't have a runway, never did and probably never will, so did he parachute to the hill? I rembember flying to Istanbul on a TWA flight, changing to THY and flying to Samsun, but it requires a four hour truck ride to the hill. There was an ol' saying, "when there's a cloud in the sky- THY won't fly" and it was a pretty shaky flight, think it was a Turk copy of an old DC3. Looking forward to seeing you at the 2005 in SAT. Don , Det 4, 1967
GARLAND, Noel, ex-ASAer in Tokyo
[edited] Elder - As usual another fine edition (#150) of the Days of Our Lives newsletter. I would hope to have something somewhat similar in our Oji website. I live in the bustling metropolis of Mesquite, Texas. I stay busy with my grade/high school reunion group, our own Oji history projects as well as another project dealing with the ASA unit at Camp/Fort Wolters over in my home town of Mineral Wells, and just recently have been asked to take over the computer lists and mailings for the local Happy Warriors group, a group of former fighter and bomber pilots and crew, serving in WWII. Those men are just getting on up in years and need help to keep the information flowing to the over 200 members who I understand are on their roster just hear in Dallas/Fort Worth alone. Boy, though, I wish I could attend your San Antonio reunion, but earlier on this year, I set that weekend for our grade school reunion, our 55th anniversary.
As my Oji group will not have a reunion until the fall of 2006, I hope to attend a reunion of the early Oji veterans earlier in September in Fort Mitchell, Ky, to meet again some of those veterans, and see hopefully the publication of that groups history book about the early years at the Tokyo Army Arsenal. I liked especially the comments you made about the possibilities of meeting old friends and hearing stories about their time in Turkey, the same I wish we would concentrate on in our reunions, as time is so brief, and the possibilities of getting to know more of the attendees instead of concentrating on touring and hanging only with the vets we were most familiar with during our stay in Tokyo. We pretty much led a secluded life while in Tokyo and didn't get to know many of the other men there, unless we were of the athletic set, or spent time in the off post sites providing liquid an female opportunities. Neither of which I participated in. Got to learn so much in a short period of time during those reunions.
Reading your lists on the mail call list I was surprised to see so many Texans on the lists. I only ran into one Texan, an MP, while in two plus years overseas, but everybody else must have been elsewhere.
GLUBKA, Roger A (Butch) YOB: 1944 E1-E3-E1 72B Det 27, FE64-JL65, (CW3 Michelle), 7353A Ireland Cir., El Paso, TX 79930, 915-562-9560, rglubka@elp.rr.com Ret E7 - Memorial Day - -remembering & appreciating: http://www.bananaskies.com/ecards/patriotic/commonsoldier/
HARGUS, Julian Duane (Zip) YOB: 1940 RA 17577760 711 & 059 E3-E4 Det 27 DE60-SE62, (Linda), 400 Acorn Dr., Jefferson City, MO 65109, 573-893-4267, ziphargus@yahoo.com - Elder, I hated to see CW Ketchersid's name in the "Taps" column. Mr K was originally a Army Air Corps pilot (who rumor has it) flew under the Golden Gate Bridge and was eased out as a disciplinary measure. He then obtained a Warrant Officer billet and flew for ASA (triggering radar hits , etc). One of the best stories of Mr K's escapades was when he buzzed Det 27 Hq building because he couldn't raise the MP's by radio to close the highway so he could land. The story grew daily, finally ending up as "he bounced off of the roof of hqs, dropping tiles on the CO. At any rate he became a cult hero. His flying skills were legendary. He, Major Underwood and another officer (who I have forgotten the name) were flying between Sinop and Manzarali Station when the aircraft iced up and lost power and had to crash land. He managed to pancake on a steep hillside and all walked away in good condition (the definition of a good landing is one that you walk away from). Anyway, he was a great guy.
HINCKLEY, Edgar R., YOB: 1935, RO16446344, E4, 989.10, Det 4 59-60, 316 Greenwoods Rd Sumner, ME 04292, 207-388-2121, no email per Van Erem & Aines Hinckley's name obtained from Det 4 Special Orders #89, dtd 10 November 1960. Contacted on 19 May 2005. Did not remember much or did not want to talk about his year on the hill or about the newsletter. Said that he retired from the US Navy as a CPO.
LINDSEY, Alvy F., YOB: 1931, W2209251, Elint Officer, Det 4 Samsun 56, W2 Det 4, 60-61 was at 4-2 twice, (Mildred), 13417 E 46th St., Tulsa, OK 74134, 918-250-6874, alvyfl@cox.net. Ret in 69 as CW4.
I was assigned to the 7220 DU at Mannheim/Seckenheim Germany in May of 1955. The 7220 was originally a Signal Corps Intelligence Agency (SCIA) Detachment and we had operational control of Det-4 and 2 Detachments in Germany and one in Vienna. The German Detachment were at Mt. Meissner near Kassel, Germany, and at Schneeberg near Bayreuth, Germany. The mission then was entirely ELINT. There was no communications mission until well after ASA had command and operational control of the units. Actually the 7220 was an analysis unit doing first pass analysis on all the Army collection units in Europe. Next in line for analysis at that time was a group in London called ANEEG (Army Navy Electronic Evaluation Group). Sometime after the ASA takeover the Air Force became the Executive Group for ELINT in Europe. I know that Det-4 in 1955 was quite small (your 1 officer and 15 EM sounds about right). From May 55 to May 66 the Detachment was commanded by Lt. Llewellyn P. Rose (w5ozi@ktc.com in your message). They had a small building on the hill but lived in Sinop at the Sinop Palas Hotel. There was a sister Detachment at Samsun at that time (commanded by a Maj. Arthur T. Lawry, who also had some command responsibility to Det-4), the mission of this Detachment was at some time assumed by the Air Force. Det 4-1 was a support unit for Det-4 at Sinop and remained so at least through 1961 (I was at Sinop 60-61). Det 4-1 at that time had an L-19 airplane, 2 pilots and other support personnel.
The collection unit in Vienna came out to Bad Aibling sometime in the 56-58 period. All three of the German collection Detachments were transferred to the nearby ASA Battalions (later Field Stations). I was at Herzo Base 63-65 and 67-69 (originally the 318th Bn, later the 16th FS). Were the pictures taken near dependent quarters in Ankara. The buildings are very similar to dependent quarters in Germany. Det-4 was closed by an officer named Michael Schneider (now a retired BG in Tucson) I'm not sure when but I think in the late 70's early 80's time period. I doubt that this helps you but I guess a little information is better than none.
I made my first trip to Sinop in 1956, a hurry-up trip to fix some serious problems. We had detachments at both Sinop and Samsun then. There being no other means of transport immediately available (that was before we had airplanes), we made the trip by taxi from Ankara. I wasn't sure for awhile that my $600 taxi fare was going to be approved. I also made another trip to Sinop in 1965 as part of the CMMI team fr I remember one time during my tour the CG from ASA visited. We rolled out the red carpet for him, he om Frankfurt. That trip lasted a week and you know how inspection teams are greeted. I don't know who started it but there was a standing rule that on Wednesday nights and major holidays everyone would dress in coat and tie or class 'A' uniform for dinner and attendance was mandatory. Just a little touch of normalcy I suppose. It was very easy to develop a less civilized life styles on the hill as I'm sure you're aware. We had several people who at one time or another get very close to disappearing down a bottle.

......did stay overnight and had the best meal I had while on the hill. As he was getting on his plane he looked around and said "I don't know, a year here wouldn't be that bad." We know that if you ain't done the time you don't really know, right?
... As to the rank distribution, I think all of the officers for my tour were in the picture for Thanksgiving 60, if so there were 7 officers and 6 warrants. If there were others I can't remember them at the moment. I read about the plane crash in 1978. We had one Capt. Dirkx fell overboard later in the day and it turns out he can't swim. We thought he was joking but Jackson finally jumped in and gave him a hand. I lived across the hall from him. He was a real gentleman and a super person. I also had the Signal Supply facility just outside the Operations fence. There was a Sp4/Sp5 Bill Rhea who ran that for me. There was also a Pfc Rzepcynski (not sure about the spelling but that's close, pronounced zep-chin-ski). There was also a Pfc Martinez who absolutely couldn't pronounce Zep's name so he called him 'Alphabet'. Bill Rhea was a nice guy and did a hell of a job for me.
McRANEY, Charles J., (Jeff), LTV Tech Rep at Hippy-GS-13, Det 4, 66, & 67-68, (Cecelia), 3901 Tawakoni Ln., Garland, TX 75043, 972-240-1145, jmcraney@verizon.net - Please note my new e-mail address. Please correct/edit your address book to reflect this change so that I can continue to receive your emails.
MIX, Lowell J YOB 1940 E5 056 Det 4, AP62-AP63, (Eleanor), 8640 Crest Hill Ave., Las Vegas, NV 89145, 702-804-0145, ljmix@juno.com - Dear Chuck, I cannot give you a positive statement of fact that I will be there, but I am going to try to make it to the San Antonio Reunion in Sep-Oct 2005. So please keep me posted. I will be looking for data on "how to do it" type stuff as I believe next year's reunion is scheduled for Las Vegas, where I happen to live and work at the present. I cannot think of a "more fun" place to have a reunion as long as you have a lot of money to spend and like to enjoy yourself while spending it. Notice I did not use the words "invest, win, or hope" in my terminology. People should plan only on bringing what they can afford to "throw away" as the odds are that 99.9% of the time, that is exactly what they will be doing, regardless of what the Mayor, Casinos. or literatures say. We have enough "homeless people" on the streets here without any of us "joining them". But I will not be a pessimist; don't forget about the fun part.....
I want to also make you aware that I have received e-mails from unsavory criminal elements from "around the world" who have quoted "family data" for which the only source of that knowledge could have come from this database. So while we cannot control the information people extract and how they desire to use it, we should (and must) be aware that this is going on and inevitably will continue to happen, and therefore take precautions against anyone from using this data to "influence" us to do things we would not normally act on or take part in, such as responding to such criminals in any respect. I think it behooves all of us to maintain our awareness of good "communications security" and to "remember" the damage that careless mistakes can cause. It might be appropriate to "alert" all our members to "watch out" for this kind of unorthodox and sometimes out right criminal use of their personal data. I will leave that up to our "decision-makers" since I do not want to unnecessarily scare people. The thing we need to remember the most is to NOT RESPOND to such phissing expeditions and thereby give credence to their data collection efforts and criminal activities or even the validation of our e-mail addresses. I did not respond and I never heard from them again, although I probably will after they read this message. But I personally feel we owe it to our membership to "get the word out." So much for my advice.......and you probably are saying the same thing about my lack of using words such as "invest, win, or hope" in reference to "spending" in Las Vegas. Guess I really shouldn't say anything, as some of it does go to help pay our taxes out here. Of course you wouldn't know that (except now I have told you, although we can keep that part confidential just between us, haha), unless you lived here. So we should classify this with the codeword FUN.
(And don't even think about the babes. That is a higher classification that goes higher than codeword Wife!
Thanks for the good newsletter,
Sincerely,
Lowell J. Mix
Las Vegas
SHADE, Jack L YOB 1941 RA13666484 E3-E5 059 Det 27, 60-62, (Gerna), 181 Old Park Rd., Lewistown, PA 17044, 717-242-0824, jshade@localnet.com – [edited] I was there at the same time as Louis Alexander. I remember Jerry Hickey he took his first trip to Athens with me. How about chickenhawk Croyle (sp) I remember Seigel a Jewish kid. Melvin U Ray Kennedy went to Germany with Jim Harasty and me to buy a car and bring it back to Turkey. Ended up with a beautiful 1954 Caddy. I also remember the rich kid William Stanley Hamilton. The guy we called Waco was Don Borders. I see he passed away. Later Jack Shade jshade@localnet.com
SIMONS, Bill, YOB 1936 RA135..... E3 058 DE59-DE60, (Patricia Anne), 155 Newbolds Corner Rd., Southampton, NJ 08088, mailto: bsimons@pics.com
[edited] As far as my arrival time at San Antonio on Thursday, there are lots of flights out of Philly so let me know what time would be most convenient for other folks in regard to arranging travel from the airport to Mengers Hotel.
STUART, William Z., (Bill), RA11360360 E6 982 Det 27, JL65-SE67, (Sue), 336 Lakehurst Rd Brown Mills NJ 08015 609-799-1300 billstuart@cooperpest.com - Elder, long time no talk. Ran into a Navy guy the other day that was assigned to the NSG EC 121 unit that was in Phu Bai with me when I was there. Some people came to buy my house and he was a friend and came along. We discussed retired military and he mentioned being in Nam in 1969 when I was there, amazing how often you run into people like this out of the blue. I was up in Mass earlier this year and stopped by Fort Devens. What a difference. It is now an industrial center. How is the family doing? My kids are doing alright in Connecticut. I see them about twice a year. They are in contant contact with their mother. Rita is aloof from the rest and they don't see much of her. Even Georgette is remarried. I know I've said if before. But we may get out your way later this year. We want to take a month off and ride around. Hope to see you if we can. I still have your address and tel nrs. Well I am at my parttime job and have to get to work. Talk to you later.
All the best, Bill Stuart
TARR, Don YOB 1945 RA Det 66, 66-67, 52 Rieder Rd., Edison, NJ 08817, 732-906-8757, dtarr@njea.org Email from Don Tarr to Jack Shade: Thanks for getting back to me. Yes, it's hard to believe that Site 23 is a seismographic station. Although it was a relatively small base at the time, it seems much too large for a seismographic station unless the Turks closed down most of the buildings on site. I wonder if it still looks the same? Well, I guess I won't be heading back that way, but I was curious. I spent 18 months of my life there in 1966-67 at Detachment 66. I still pull up the Site 23 site on the internet from time to time. I couldn't wait to get out of there, but now I look back upon that time as one of the most carefree times of my life – nothing to worry about except counting the days to getting back to the world. When you're 20 years old life is so much more simple.
WILSON, Roy, YOB: 1942, RA18648500, E2-E4, 059, Det 4, FE63-FE64, (Lillian), 2129 Euclid St., Terrytown, LA 70056, 504-460-9879, no email
WINCH, Gary, YOB: 1940, RA11386407, E3-E5, 982, Det 27, 25SE62-JN64, (Marian), 105A Askewton Rd., Severna Park, MD 21146, 410-647-2879, gwwinch@worldnet.att.net - Hi Elder. I was recently in touch with a long time friend who was in Turkey at the same time I was (Det 27 '62-64) and it turns out, he lives in San Antonio! I've forwarded to him the information about the Reunion and also provided him with your email address; I've asked him to make contact directly with you about the Reunion and getting on the distribution list for Days of Our Lives. His name is Joe Callahan and his email address is: joepeg8610@satx.rr.com Thanks again to you and all the others who work so hard to make our group a reality! Cheers/Gary Winch
WINKLER, Harold S (Winky) YOB 1937, RA15605639, E2-E4 981 Det 4, MY60-MY61, (Bernice-Bobbie), 12195 Thames Pl., Cincinnati, OH 45241, 513-489-5308, winklerh@msn.com – Winky called me on 20 May 2005 and we had a very interesting chat about his year tour of duty at Sinop as a cryptanalyst (981). Winky graduated from Ohio University in 1959 with a degree in Mathematics. His draft status changed when he graduated and visited the reception center and soon found him corralled by a ASA recruiter and the ASA pitch which convinced him to sign up for ASA duty. Enlisted in February 1959 and took basic at Fort Knox, KY. Basic Training memories include marching up and down Agony and Misery. Was issued Brown Shoes at Fort Knox and given a kit to blacken them. That process didn't work too good and he bought new black shoes and boots. After basic was sent to Fort Devens for classification and training. Winky's degree in math got him into Cryptanalyst training and MOS 981. His first assignment was to Det 4 in Sinop, Turkey. Remembers WO Ketchersid saying, "If I yell jump, you better jump too!"
Am presently employed by a defense contractor operating the Dayton Electronic Commerce Resource Center and was helping a client search for DoD RFQs and happened on some from Ft. Devens, which I heard had been bracked. Surfing the web for info I ran into the NASAA home page and was really excited to see it, especially your page. I don't specifically remember you but I did spend time in the photo lab and I do remember the description of your knife sheath. It may not have been yours, but it was sure made the same way. I worked with George Barger, Glen Austin and Richard Casteel under CW2 Boleslaw Filipczyk.
Stan Ward who was in my class from Devens left a message in the mail bag about them and I am waiting for a reply from Stan.
After Filipczyk returned to the States, we had a Capt. Dirkx who was [part American Indian and we used to get his goat by yelling Geronimo whenever he was in earshot. Have only had contact with one other ASA alumni since leaving service, Jim Baumgardner. He was stationed with me at NSA and our wives taught school together at Meade Hghts. elementary school. They returned to life in Tennessee in Johnson City. She was from Sevierville originally and we found them by looking at class pictures at the high school and the principal called her dad and said he had a couple of damn Yankees looking for his daughter and son in law.
I worked for IBM Federal Systems Division in Bethesda, switched to RCA Govt. marketing in Dayton and then spent 28 years at Champion Paper in Hamilton. Took early retirement in 1994 and joined the ECRC then. Am retiring for good next spring, early summer, and we plan to travel a lot. Sure would like to get together with some of the early 60's crowd from the hill. I still have my set of postcards and some other photos. Even have trays of slides that I kept. Besides folks, I am interested if anyone can remember our marching chants as we marched to and from class at Devens. I know it wasn't sound off. Read a post on one of these pages about the Turkish navy visit in the summer. That was some party.
Please send me six Det 4 patches. I'm enclosing check for $20. for patches and shipping.