From: "ercgreen" ercgreen@yourinter.net
Subject: DAYS OF OUR LIVES #107
Date: Fri, 7 Mar 2003 07:53:57 -0600
MAIL-bag - PRESERVING FORGOTTEN MEMORIES
This email and any files transmitted with it is intended solely for the use of the individual or entity to whom they are addresses. If you are not the intended recipient, you are notified that disclosing, copying, distributing or taking any action in reliance on the contents of this information is strictly prohibited. Please note that any views or opinions presented in this email are solely those of the author. I welcome articles, BIO'S, stories, etc and hope that all ASA Turkey Vet's will contribute and make the newsletter worthwhile. You can write whatever message you would like, and it will show up here for your old friends to enjoy. I will respond to all e-mails and will assist whenever needed, but reserve the right to edit for content and clarity and welcome any errors that may appear herein. Thank you, Elder RC Green, aka gH, ercgreen@yourinter.net
RYRYRYRYRYRYRYRYRYRYRYRYRYRYRYRYRYRYRYRYRYRYRYRYRYRYRYRYRYRYRYRYRYRY The quick brown fox jumped over the lazy dog's back.The quick brown fox jumped over the lazy dog's back. 1234567890.1234567890.1234567890.1234567890.1234567890.1234567890.1234567890.1234567890 NOW IS THE TIME FOR ALL GOOD MEN TO COME TO THE AID OF THEIR COUNTRY. NOW IS THE
MILITARY FUNERAL HONORS
Military funeral honors is a statutory benefit for all veteran's who served at least one term of enlistment and separated under conditions other than dishonorable. The family of an eligible veteran can expect TAPS, FLAG FOLDING and FLAG PRESENTATION at the funeral. Please store the following Military Funeral Honor details away whenever the fateful day arrives for any veteran: www.militaryfuneralhonors.osd.mil or call 1-877-645-4667
TAPS
BURGOYNE, Marvin K., DOB: 21SE1928, Maj, Det 4, 62, DOD: 10MY1998 at Odenton, Anne Arundel County, MD SSN: 375-26-2777 issued Michigan
ELAM, Douglas B., E4, Det 4, 58-59. DOB 18 June 1937 at St. Louis, MO. DOD: 27 January 2003 at Maitland, Florida. The Elam's moved to the central Florida area in 1984 from Massachusetts. He served many years in ASA and INSCOM before retiring at the rank of Command Sergeant Major in 1982. During his distinguished military service, he was awarded the Bronze Star for his service in Vietnam. In addition to his regular duties, Mr. Elam hosted a radio show in Sinop,Turkey, a talent he carried over to civilian life. He hosted the Douglas Elam Show on a local AM radio station, a weekly political discussion and commentary program. Several years ago he founded and became President of Humanalysis, Inc., an engineering support firm. In addition to being an accomplished author, he was also an integral part of many local charities, including producing, emceeing and performing in several talent shows for local civic groups. Doug Elam was also the chairman of the Republican Executive Committee for Seminole County and was a member of the Southern Seminole Sertoma Club. He was buried with full military honors alongside his son Timothy, at Jefferson Barracks in St. Louis, MO. He is survived by his wife Sieglinda, (Siegi) of Maitland, Fl., and a daughter, Kathleen E. Redditt of Fairfax, VA.
FILIPCZYK, Boleslaw C., DOB: 25MY1912, CW4, Det 4, 60-61, (Katherine), Alexandria, VA., DOD: 24SE1990 at Alexandria, VA. SSN: 195-09-2877 issued Pennsylvania
FILIPCZYK, Katherine, DOB: 10FE1916 DOD: JA1986 at Alexandria, VA., wife of Boleslaw Filipczyk
HEAD, Daniel, DOB: 20FE1932, Det 4, 62, DOD: 16FE1996 at Big Stone Gap, VA. SSN: 230-34-9214 issued in Virginia
MATTHIAS, Charles B., DOB: 24JL1930, CPT, Det 4, 62, DOD: MR1964. SSN: 577-36-8637 issued DC
SCHWEITZER, Gordon D., Maj, Protestant Chaplain, Det 27, 59-60, DOB: 10JL25 DOD: 9NO92 at St Louis, MO SSN: 486-20-5657 issued MO
THE ADANA AIRPORT ATTACHMENT IS OF DET 4-2 PERSONNEL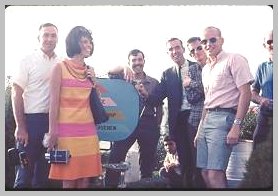 L-R: Lt Cliff Faith, Rosalie Faith, ? Scott, John T. Berryman, Bill Baskerville, Dave Swenson and Wiley Craig
ANDERSON, Jerry, E3-E4, 341.10-Teletype repair, Det 27, JL56-JN58, (Sally), 5209, Lindermann Ave., Racine, WI 53406, 262-634-8509, jsa@wi.net - Elder, I just made reservations at Seven Springs for 29-30 August and have elected to drive as Sally will be coming along this time. I look forward to seeing everybody at the reunion. Regards Jerry Anderson (Det 27 JL56-JN58)
BELFORD, Dale Det 4, 59-60, 8621 Strathmore Dr., Dallas, TX 75238, 214-341-7408, reillyec@onramp.net
Organization: Reilly/Echols Printing, Inc.
Subj: Remembrances of Sinop Brothers from Sinop, The following names I remember. Sergeant Peters (he was my Trick Chief), Roger Staffin, Frank Svoboda, Tony Vitale, Bill Bishop, Judd Bowers, Eddie Coats, Ron Cole, Harlan Crist, Tom Dempsey, a fellow named Dent, Jerry Dill, Doug Elam-deceased, Don Elkins, Vic Fauser, Don Gentry, Dennis Geissler, Larry Garrett, Ron Hasse, Ed Harrison (he is the artist that drew the post cards), John Heath, Art Jennings, Edwin Lamb, Kerry Lynch (he was the manager of the EM Club), Bob Malone, Jack McKenna, Jerry McNamara, Burt Slesinger, Frank Soukup, Walter Stanton, Al Tucker, and another that was on my trick and was a great pitcher by the name of Robert Johnson. Bill Denton was on my trick but worked the DF at the point. The PVR50 operator was Paul Krause. The fellow on my trick that worked just in front of me had a last name of Westover...and I think his first name was Paul....but not sure. Anyway, Sadler, Sellers, Westover and myself ended up at Two Rock Ranch in Company D of the 317th ASA Battalion. We were to become part of the 18th Airborne Corp just after arrival and spent many happy days at the fabulous Army posts known as Camp Roberts, Camp San Luis Obispo, Fort Lewis, Yakama Firing Range, Fort Irwin, Edwards AFB, Fort Ord, Presidio of SF, Fort Baker, Fort Cronkite, Fort Berry, Fairfield AFB, Travis AFB, Sacramento Signal, and many others. In the last 17 months at Two Rock we were in Army convoys traveling the complete western U.S. to the tune of about 30,000 miles or so. In fact, one of the guys from Sinop and Two Rock, George Forbis, [506 Elaine Dr., Nashville, TN 37211, 615-834-7136 or George D. Forbis, RR2 Mulberry Grove, IL 62262, 618-425-3563] played basketball for Kentucky before coming into the Army and after getting out of the Army he was a professional singer (Gospel music, at one time with the Florida Boys). During the time I was at Sinop...we were not allowed to go downtown at all. We did make one trip to Samsun for a basketball tournament....that was the only time I was off the post during that year. We did get off to go swimming during the summer but it was at a beach on the East side of Sinop and about two-three miles south of Sinop....then we took a small dirt road to the East. If anyone would like to get ahold of Don Sadler or Paul Sellers they can try the telephone books. Sadler lives on Bonita Road in the community of Bonita, LA. Sellers, at the last I heard, has retired from the California Highway Patrol at many years at Crescent City, CA. Still in the area. I just called my ex-wife of many years and she says she still had two boxes of colored slides of mine from Sinop and will give them to me if I come to Oklahoma and ask her nicely...along with a dinner, I'm sure. Guess I'll go up there and get them. We have been ex since January of 1964.
BULLIS, Delmar L., (Del), DOB: 30AU39, RA13620441, E4, 058 Det 4, JL58-JL59, (Betty), 127 Queen Bess Ct., Fort Pierce, FL 34949, 772-465-1306, dlbullis@aol.com . Contacted on 24 February 2003.
CRAM, Eugene C., (Gene), W2, W2215309, OIC T/A, Det 27, 66-67, (Phyllis), 5180 SW Gardenia Ct., Dunnellon, FL 34431, 352-489-9085, superchief3@msn.com . We thank all of you for the cards, calls and prayers. Gene was released from the rehab this morning and it is sure great having him back home. Phyllis
DIRKX, Gerard M., (Geronimo), DOB: 24JN25, 03, Ops O, Det 4, 60-61, (Diane), 1 Vista Loma, Rancho Mirage, CA., 92270, 760-321-4312, gmddi@att.net . Finally located Colonel Dirkx on 6 March 2003. Most vet's thought his first name was Gerald, but its Gerard. Spent 30 years in the US Army and has some fond memories of his Tour of Duty at Det 4 in Sinop. Retired from the military and was an exec with a mail order outfit in Dallas, TX. Moved to California in 1989 and has a consulting business that keeps him busy. In fact, at age 77 he travels to Japan every other month. He told me that with the exception of Burt Slessinger, I was the first one to contact him about his time spent on the hill.
FELKOSKI, Marion T., (Bud), DOB: 19AU39, RA13628918, E3-E4, Det 4, JL58-JA59, (Doris),10 Deer Trl Fairfield PA 17320, 717-642-6687, no e-mail. Contacted on 28 February 2003. Remembers Operation BLUEBACK that was the codename for those thirty 058's who were transferred from Gutleut Kaserne to Sinop. Turkey on 18 July 1958
FULTON, Richard O., Det 4, 57-58, 1125 Texas St., Denton, TX 76209 940-387-1671 richfulton@earthlink.net - My name is Richard Fulton and I was sent to Sinup in 1957-8. It was a 50 man outpost then and we all lived in 4 man tents. The station got to a low of 25 men and stayed that way for a while before they brought it back up to 50. I remember building the EMC and the church, this was before they expanded the base and built barracks. Just a few of the names I can still remember : Bob Finn, Robert Phaelon, Harold Seime, ? Kurksey, Wayne Beuhler, If my youngest daughter still has my photo album that I put together of Sinop I'll send some photo's to your site. My younger brother is Don Fulton and his email is dgfulton@earthlink.net <mailto:dgfulton@earthlink.net>. He was at Det 4 in 1967. Thanks, Richard Fulton
GAINES, Frazier L., DOB: 2FE40, RA15591158, E3, 058, Det 4, JL58-JL59, (Fanny), 2636 SE 13th Ct., Pompano Beach FL 33062, 954-788-6815, agesbottom@aol.com (cable) Contacted on 26 Feb 2003 from Floyd Roberts list. Frazier has an excellent memory of his Tour of Duty at Sinop as a 058. He is the first one who remembers FREDDY HELTON who was the First Sergeant of the ASA in-processing at Ankara.
GLASER, Gerald (Jerry), DOB: 11NO40, RA15612661, E3-E4, 056, Det 4, 60-61, (Joan), 1211 Lakerise Overlook, Gallatin, TN 37066, 615-822-3672, geraldglaser@aol.com Jerry submitted the Rowdy attachment.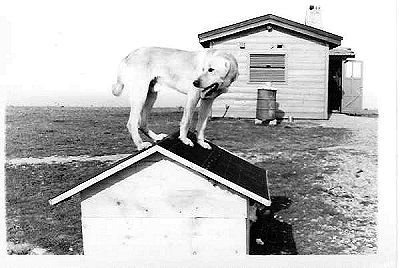 The building behind the doghouse is the DF shack on the point. Jerry continues to rack his brain for more memory regarding the 1961 incident at the front gate. Jerry sent me a photo of him and Joe Webber wearing a GIRB and Fedora hats respectively sitting on a cliff overlooking the Black Sea and all one can see is two "silhouettes in the dark." trying to fly a five-foot high kite. The story behind that photo is one of Jerry Glaser's favorites stories - like something out of a MASH episode. Glaser and Webber built the kite from faring strips and skinned it with layers of heavy brown paper from the mess hall and used a torn up bed sheet for the tail and controlled it with heavy twine.
They flew it over the town of Sinop a couple of times at night. It was hard to see at night - so they waited until there was a heavy wind - then tied a GI flashlight to the tail and launched it over the town of Sinop. The heavy wind caused the twine to break and now it resembled a fast moving UFO. They could see the flashlight for what it seemed like miles. The next day the "Albies" house boys in the best way they could, mostly hand gestures, told everyone about a strange light over Sinop. I guess that was our contribution to UFO's over Sinop. They thought about making another kite, but then thought better of it. If there was some kind of panic in Sinop and they found out who did it they figured they could be in deep do do. Glaser laugh's every time he thinks about it, maybe you just had to be there.

GOODMAN, Jay, DOB: 3JN52, E4, MP, Det 4, SE72-SE73, (Kathy), 3468 Izy Hill Ln., Finleyville, PA 15332, 724-348-0358, jaykathy@nb.net Jay called me on 3 March 2003 regarding the 2003 reunion.
Said that he and Kathy will commute to the reunion as they live an hour away.

HARROFF, Ralph E., RA18540619, E3, 058, Gutleut Kaserne, Frankfurt, Germany., TX., 903-844-9255. No e-mail. Contacted on 28 February 2003. Ralph Harroff told me that he was on the orders 18 July 1958 deployment orders with the other 058's at Gutleut Kaserne, but that he was taken off the orders and in November 1958 was sent home and given a 209 honorable discharge. Harroff's plight went relatively unnoticed and I am short on the specific details. Some talk the talk but when it comes time to deliver, they don't walk the walk.
HAYNES, Doug Det 27, dah5@gte.net Hello Mr.Green, My father (Donald Haynes) gave me the aerial photo of Site 23 in 1965. I was about 8 or 9 years old. I attended the school, three grades in one room, 18 kids. Grades 4-6 in the other room about 10 kids. Compared to some of the things we hear about in todays society, Manzarali was a slice of heaven. I enjoy the reports on your website, it really brings back the memories. Doug Haynes
HEER, Michael, DOB: 25JN43, E3-E4, 059, Det 27, DE62-AP64, (Candace), 2409 Timberlake Ave., High Point, NC 27265, 336-883-4974, mheer@inteltech.com
JELLISON, Stephen C., (Steve), DOB: 14JA42, RA1664773, E4, 058, Det 4, 61-62, 1205 Lake Parke Drive, Jacksonville, FL 32259, 904-230-9159, sjellison@attbi.com Spent 3 years active with duty assignments as an 058 in Vint Hill Farms, VA, Capetown, South Africa and Det 4. Got out July 1963. Returned to college and gravitated to the foodservice sales business. Currently work for Pioneer Mills handling restaurant chain sales of bakery goods. Have a lovely wife of 27 years and two sons, 16 and 18. About to move back to St. Louis after 3 years here in FL. Keep me in the loop re: Det. 4 happenings...keep up the good work. Incidentally, I see you and your lovely bride still like dogs!
KIMMERLING, Robert (Bob), DOB: 7AU40, RA?, E3-E4, 722, Det 4, SE60-SE61, (Pat), 106 Old Spring Rd., Fairfield CT 06824, 203-255-2329, bobkim4@yahoo.com and pat.kim@snet.net . Contacted on 1 March 2003. Remembers flying with 5 other yenni's to Sinop in the L-20 aircraft. the incident in 1961 when a young Turk soldier was killed at the Det 4 front gate. The Turk soldiers in the brown wool uniforms were all over the post and the houseboys were keeping a close eye on everyone's movement. Was told that a Turk Navy Captain from a Destroyer ship came to the post and demanded that they turn over the American who had killed the Turk. Never was told the results of that visit or the name of the GI who he was told had been smuggled from Sinop in a courier bag. Said that he thought that the incident was reported in the NY TimesRemembers First Sergeant Crawford Boyd and the burning of his hut when Boyd was attending a Turk party in the back of the EM Club. Said that Boyd was of average height and in good physical shape and that he was close to retirement. Also remembers CPT Dirkx who he thought was part Indian and that they gave him the nickname Geronimo
LINDSEY, Alvy, DOB:1931, Det 4, Samsun 56, and 60-61, (Mildred), 13417 E 46th St., Tulsa, OK 74134, 918-250-6874, alvyfl@cox.net (cable). Ret in 69 as CW4. I have a little info on the early days of Det-4 but not as much as you're looking for I'm sure. I was assigned to the 7220 DU at Mannheim/Seckenheim Germany in May of 1955. The 7220 was originally a Signal Corps Intelligence Agency (SCIA) Detachment and we had operational control of Det-4 and 2 Detachments in Germany and one in Vienna. The German Detachment were at Mt. Meissner near Kassel, Germany, and at Schneeberg near Bayreuth, Germany. The mission then was entirely ELINT. There was no communications mission until well after ASA had command and operational control of the units. Actually the 7220 was an analysis unit doing first pass analysis on all the Army collection units in Europe. Next in line for analysis at that time was a group in London called ANEEG (Army Navy Electronic Evaluation Group). Sometime after the ASA takeover the Air Force became the Executive Group for ELINT in Europe. I know that Det-4 in 1955 was quite small (your 1 officer and 15 EM sounds about right). From May 55 to May 66 the Detachment was commanded by Lt. Llewellyn P. Rose (w5ozi@ktc.com in your message). They had a small building on the hill but lived in Sinop at the Sinop Palas Hotel. There was a sister Detachment at Samsun at that time (commanded by a Maj. Arthur T. Lawry, who also had some command responsibility to Det-4), the mission of this Detachment was at some time assumed by the Air Force. Det 4-1 was a support unit for Det-4 at Sinop and remained so at least through 1961 (I was at Sinop 60-61). Det 4-1 at that time had an L-19 airplane, 2 pilots and other support personnel. The collection unit in Vienna came out to Bad Aibling sometime in the 56-58 period. All three of the German collection Detachments were transferred to the nearby ASA Battalions (later Field Stations). I was at Herzo Base 63-65 and 67-69 (originally the 318th Bn, later the 16th FS). Were the pictures taken near dependent quarters in Ankara. The buildings are very similar to dependent quarters in Germany. Det-4 was closed by an officer named Michael Schneider (now a retired BG in Tucson) I'm not sure when but I think in the late 70's early 80's time period. I doubt that this helps you but I guess a little information is better than none. Regards, Al Lindsey
MORAN, Ed L. Jr., DOB: 3SE45, RA13857991, E2-E4, 058, Det 27, 66-67, (Jeanne), 3306 Hampton Ct., Mt Airy, MD 21771, 301-829-2158, edjemo@att.net per Kern. Ed added his name to Vern's ASA Locator and I called him on 2 March 2003. Vaguely remembers the FOCK Rock, a Tony Panske and Mrs McCormick who brought in the shows to the NCO Club. After Turkey went back to Devens for 05K training and was assigned to Chitose, Japan.
NEGUS, Vern, RA12625113, DOB 23DE43, 058, Det 27, 62-63, (Sandra), 659 Payne Marsh Rd., Richford, NY 13835, 607-657-8272, vernnegus@yahoo.com . Talked to Sandra and Vern on 3 March 2003. Sandra is from nearby Johnstown, PA., and they hope to make the 2003 reunion at 7 Springs.
They reside on a 180 acre farm near Binghamton that Vern operated as a dairyman for 17 years. Now he makes the hay and share crops out the rest to others when needed. Vern enjoyed his 058 Tour of Duty at Manzarali. He remembers sitting side saddle with John Hancock during his OJT for a R390 position on his trick. Worked with Walt Dubicki, Jim Harber, ? Lara from New Mexico, Ron Hilmer from Minnesota, Larry Wilson and, of course, Bill Hartranft. After Turkey he was stationed at Vint Hill Farms Field Station before his discharge. Took a job with GE at Diyarbakir, Turkey for three years, then moved to Ebensburg, PA with a friend for a job and where he met Sandra in Johnstown, PA and they were married and moved back to New York where he started farming. Now he works ...
O'DONNELL, Stephen C., (Steve), DOB: 19JN35, RA16589188, E4, 058, Det 4, 18JL58-JL59, (Donna), 606 Tangier Ave., Placentia, CA 92670, 714-996-6985, steve@dowdandguild.com Contacted 24 February 2003. Remembers his ASA time at Fort Devens, Frankfurt, Germany and Sinop Turkey.
ROBERTS, Floyd Edward DOB: 4MR38, RA16598704, E3-E4, 058, Det 4, 58, (Marilyn), 1995 11th Ave., Friendship, WI 53934, 608-339-9012, froberts@maqs.net - Floyd sent me a database that he created several years ago. It includes the names of approximately 33 058's who were transferred from Hqs USASAEUR at Frankfurt to Det 4 at Sinop, Turkey on 18 July 1958 to support the Lebanon crisis.
RODRIGUES, Charlie E4 Supply Det 4, 59-60, (Patricia), 210 Benham Ave., Syracuse, NY 13219, 315-487-1195, pcrodrigues@webtv.net Subject: Dogs of Sinop. I'm new to the internet, but this is a blast. I don't see any mention of a tan mid-sized female that was Gimp's girlfriend. She was appropriately named "Whore". Does this ring any bells?
SAUKAS, Joe E4-E5 981 Det 4, 60-61, (Diane), 2886 Pebble Beach Dr., Elliott City, MD 21042, 410-418-9399, sjoseph52@comcast.net or S3A9U1K0A2S9@comcast.net -
You can find almost ANYTHING on the Internet if you dig deep enough.
http://www.anzwers.org/free/navyscpo/various.html
SCHOENINGER, Richard E (Dick), 058 Det 4, JN65-MY66, 313 Swedesford Rd., Malvern, PA 19355, 610-640-0976 amisbest@yahoo.com [edited] - I was stationed on the "hill" from June 1965 to May 1966; the usual I1 months and 10 days. I spent my 21" birthday at the NCO club getting hammered on rum and coke (a drink that now disgusts me). I was lucky enough to play basketball on the post team, which made a 30-day trip to Samsun, Adana, Athens and Bad Aibling Germany. We lost every game we played - kind of a good thing because it freed us up to see the sights. I would love to hear from anyone who was on that team. I also played on a basketball team called the "Alkies" who were undefeated in the intramural league. The only guys I can remember are Bob O'Hara, Jim Hudson, Brian Braman, a guy named Ed Twadell and a yenni named Denny Naughton. It was a great way to spend time. For those of you 05H20's who are nostalgic for some dits, I found a web site that will download Morse software. Even after 30 years of not taking code, I was still able to do about 22 wpm. Do a search on Morse code and you will find the site eventually. My daughter got a Turkish puzzle ring for Christmas (not from me). Does that bring back memories? I spent many hours during mid shifts taking these rings apart and putting them back together. I have heard from at least 6 old friends who were at the 'Hill". It is always a great pleasure to look back-even though while we were there, we couldn't wait for it to end. Thank you for your efforts to keep these memories alive. Dick Schoeninger
SLESINGER, Burt, DOB: 15NO29, 02-03, 9620, Det 4, 4JL58-MY59, (Sandi), 722 Wing Foot Ln., Melbourne FL 32940, 321-254-2134, slesingerburt@spacey.net . Burt publishes the monthly ASA newsletter to 1000's of ASA Veteran's and is a SINOP alumnus who hopefully will send memories of his Tour of Duty on the hill to share with us. Burt arrived as a 1Lt and was promoted to Captain while working in operations under CPT Lynn Bergland who was the Operations Officer. CPT Gerard Dirkx, a fine officer, was a good friend who later retired as a Colonel from the ASA and worked as a VP for a catalog company in Dallas, Texas. The Det 4 Commander was LTC Leon Ladd. Also remembers a comical incident that happened during a 1958 XMAS party at the Officers Club. The NCO's brought a very interesting gift to the club. It was a live water buffalo that promptly did a #2 on the floor. Remembers that Jack Dunlap worked in the Motor Pool and later was interviewed about what knowledge he had of Dunlap while on the hill.
ST. PIERRE, Eugene H., DOB: 1939, RA11337318, E4, 058, Det 4, 18JL58-DE58, (Barbara), 89 Willobrook Dr., Pasadena, MD, 21122, 410-437-0615, tucker200054321@cs.com . Contacted on 26 February 2003. Gene is a native of Portland, Maine. Enlisted for ASA and successfully completed the 058 course at Ft Devens. First assignment was for duty in Germany after in-country processing at Gutleut Kaserne which was where the bachelors assigned to Hqs USASAEUR at Frankfurt, Germany, were housed. Was there about two weeks when he and about 30 others,on 18 July 1958, were given shots late one evening and FULL FIELD gear and told that they would be flying out of Germany that evening. He knew that the Lebanon crisis had begun on the 14th of July and had thoughts that their destination might be to Beirut as they boarded the aircraft at Rhein/Main Airport. Does not remember who was in charge of the deployment, but does remember that everyone was in a somber mood. Was sorta surprised when the plane landed at the Esenboga Airport 21 miles outside of Ankara. The group was bused to the in-Turkey processing unit in Ankara and the next day boarded two small and cramped buses for the 12 hour trip to Sinop where, for 6 months, he suffered the indignities of life without running water and sanitation consisting of a 2 hole wooden outhouse. He remembers the mud, the barber shop, beautiful pastel color sunsets, and, of course, the EM Club. He developed a liking for cherry brandy and soda. Has not had that drink since he left Sinop. Remembers pulling guard duty with only a club at the fuel depot and had heard rumors that the Turks would once in a while hi-jack one of the 55 gallon drums and roll it down the hill. Served only 6 months on the 'hill'. Was given a chance to 'volunteer' for reassignment to Bad Aibling, and was selected. He and 3 others got orders for Bad Aibling, Germany where he worked as a clerk in the S2/S3 office. Gene's trip from Sinop to Ankara was in the back of a Iki Bachuk (2 1/2 ton) where he says that he was the sickest that he's ever been in his life. After discharge, attended college at the University of Maine in Portland and the U of M in Orono. He then joined the Department of Defense ranks where he labored from 1964-1995.

SURAY, Michael A (Mike) DOB: 9OC45 RA13809398 E3-E4 993 Det 4, DE64-DE65,11m15d, (Carol), 3947 Dowling Ave., Pgh, PA 15221 412-271-2517, mike_suray@yahoo.com (cable)
SWENSON, Dave, E5, 98J30, Det 4-2, MR66-68, (Miche), 40 Kennedy Dr., Keene, NH 03431, 603-357-5651, dswenson@ne.rr.com . Hi John T. Berryman. Just read your BIO on Elder's DOOL site. It has been a long time since we saw you off (37 years) from Adana on "Turk Hava Yolari". I have attached a photo taken of that momentous event. I believe that it may be the only one in existence of you from those days. As I recall you never took pictures. I remember you telling me that if you wanted pictures you'd subscribe to National Geographic. So I've taken the liberty to attach several from 1966.
Of all the crew from 65-66, I have only kept in touch with Bill Baskervill, recently touched bases with Keith "Brownie" and heard briefly from Heintz. It appears that life has treated you well. Miche and I have been married for 33 years, have two grown children, Matt and Beth. I am a Managing Consultant for Liberty Mutual, travel frequently on projects, operational analysis etc. It's good to be able to tell people where you're going and what you'll be doing! Glad to have had the opportunity to do a "touch and go". (Thanks Elder) John drop me a line.
VEENHUIS, DeWayne. (Vee), DOB: 16DE37, RA27368540, E2-E4, 058, Det 4, JA57-JA58, (Tomiko), 1320 Appletree Ct., Frederick, MD 21073 301-694-0827 dgveenhuis@earthlink.net
WILLINGHAM, Ted E5 33C Det 27, 66-68 (Susan), 3 Chestnut St., Easthampton, MA 01027 413-527-9687 tedw@the-spa.com - Elder. After the reunion in Hershey my father died 2 October 2002 in San Antonio and we attended the funeral at Fort Sam Houston. I've been tied up mostly trying to keep my wide spread family informed on my mothers status who still lives in San Antonio. Take Care, Smile -TUSLOG Det 27 Lives [Ted - go to http://dool-1.tripod.com for reunion information]
WINKLER, Harold S., (Winky), DOB: 16JN37, RA15605639, E3-E4, 981, Det 4, MY60-MY61, (Bobbie), 12195 Thames Pl., Cincinnati, OH 45241, 513-489-5308, winklerh@msn.com . BS OHIO U, Athens 1959, MBA University of Dayton, 1966. Has two sons, an optometrist and a lawyer, and 5 grandchildren. Contacted on 1 March 2003. Had a degree in math before enlisting in the ASA. Was assigned to a C/A (981) class about a week or so after it had started. Finished 1st in his class with George Barger and Glen Austin 2nd and 3rd respectively and thought that they would get the choice
assignment of Wiesbaden, Germany - but instead all three got SINOP. He and George Barger flew 1st Class to Esenboga Airport outside Ankara and then took a taxi to the Det 4 processing unit in Ankara where Fat Freddy Helton was in charge. They stayed in Ankara for several days until they rode to Sinop with the Brit's in a Land Rover and were introduced to the mud on the hill. On subsequent 3 day passes they found out that Fat Freddy more or less controlled the Lira Exchange and it was rumored that he was deep into Black Market. Fred had been an Infantryman in the Korean War and had been seriously wounded and that his lower jaw was supported by a rubber band. Freddy was still there when Winky rotated and had learned that he was there in July 1958 and possibly earlier. Harold's George's and Glen's boss at Sinop was Boreslaw Filipczyk and after Filipczyk returned to the states and retired, CPT Gerald Dirkx was their operations officer. Dirkx was part American Indian and everyone used to get his goat by yelling Geronimo whenever he was in earshot. Remembers that every month they were told that if there was a gas attack they would have to run to the supply room and secure their gas mask which was hanging from the ceiling. Captain Donald Aines, the Supply Officer, was a veteran of the Korean War and Winky remembers the time Aines scolded a young LT for wearing a ribbon that he was not authorized, leading to the officer's assignment of Security Officer in charge of the MP's nd the yeni guards. Sometime during their tour several GI's were found with a large banner that read "THE ARMY SUCKS"., etc. The bellicose 1SG had been having trouble with the troops locking him out of his tent and leaving signs that said " have nine more days and nine more locks." Of course he was dumb enough to go through the personnel records to see who had nine days left. Someone even drove a cow through the fence and herded it into the tent. The CO knew of the padlocking and the banner was confiscated as evidence - they apparently figured that they had caught the harassing ringleader.
The court martial paperwork was prepared charging seditious conspiracy, against several GI's, based on US Code title 18, chapter 115 - - -
If two or more persons ...... subject to the jurisdiction of the United States, conspire to .......... put down..... the Government of the United States.... or to oppose by force the authority thereof........shall each be fined under this title or imprisoned not more than twenty years, or both.
The paperwork was drawn up and turned over to the Det 66-1 commander, a West Pointer, for action.
He reviewed the charges and promptly dismissed it as crossing the line of reasonableness and threw it out of court. The fellows that Winky worked with were George Barger and Glen Austin. Also Richard Casteel from Cleveland Tennessee, Phil Lemense, Joe Saukas, Sgt Phil Humphries and Dick Willet. If we were lucky we'd get a 3 day pass and get to fly in the L-19 and L-20 aircraft. The Lt and WO who were the assigned pilots used to initiate a mock dogfight in the air to the amusement of everyone at Sinop. Winky was told that the LT later got killed in a crash somewhere in the general area. If we didn't fly, it was a 12 hour ride in the back of a deuce and a half. Have only had minor contact with other alumni since leaving the ASA, I worked for IBM Federal Systems Division in Bethesda, switched to RCA Govt. Marketing in Dayton and then spent 28 years at Champion Paper in Hamilton, Ohio. Took early retirement in 1994 and joined the Dayton ECRC (Electronic Commerce Resource Center) then. Retired for good in December 2000 and travel a lot. Sure would like to get together with some of the early 60's crowd from the hill. I still have my set of postcards and some other photos. Even have trays of slides that I kept. Besides folks, I am interested if anyone can remember our marching chants as we marched to and from class at Devens. I know it wasn't sound off. Read a post on one of these pages about the Turkish navy visit in the summer. Remember it well. That was some party. The NCOs were mad the Turks didn't visit their club. Surfing the web for info I ran into the NASAA home page and was really excited to see it, especially Bill Simons page. I don't remember Bill Simons that much, but did spend time in the photo lab and remember the description of his knife sheath. It's amazing how many of us from the 60 and 61 time period have postings on the page
Don Ackerman http://www.tuslogdet4.com/sinop/ackerman/ackerman.htm 1960
Jim Bailey http://www.tuslogdet4.com/sinop/bailey/bailey.htm '60-'61
Vince Caruso http://www.tuslogdet4.com/sinop/caruso/caruso.htm '59-'60
Gerald Glaser http://www.tuslogdet4.com/sinop/glaser/glaser.htm '60-'61
Harry Lance http://www.tuslogdet4.com/sinop/lance/lance.htm '59-'60
Fred Schwartz http://www.tuslogdet4.com/sinop/schwartz/schwartz.htm '59-'60
Bill Simons http://www.tuslogdet4.com/sinop/simons/simons.htm 1960
Roger Staffin http://www.tuslogdet4.com/sinop/staffin/staffin.htm '59-'60
Bob Van Erem http://www.tuslogdet4.com/sinop/vanerem/vanerem.htm '59-'60
Hal Winkler http://www.tuslogdet4.com/sinop/winkler/winkler.htm '60-'61
WRIGHT, Jimmie W., (Jim), DOB: 8NO47, RA14932148, E3-E4, 05K, Det 27, SE66-MR67, (Delores-dec), 145 Clingstone Cr., Newman, GA 30265, 770-253-3380, jwwright@charter.net . Contacted on 3 March 2003. Jim, as a PFC, was a HONOR GRADUATE of the 7th Army NCO Academy at Bad Tolz, Germany in early 1967. The Bad Tolz NCO Academy drill sergeants were all Special Forces and had a well earned reputation as being one of the best that the US Army had! The academy recommended immediate promotion to E4 when he returned to Manzarali - but it didn't happen and Jim prefers not to single out the person who denied him the stripe. He remembers WO Calby Lanoux and his twin daughters, Jean and Joan. Learned to play poker at Manzarali where he lost a lot before wiseing up to tricks of the trade. Played drums in a four person band headed by Gary Tibeaux (sp?) that entertained at the NCO Club. Still plays the drums to entertain his grandchildren. His biggest memory of Turkey was seeing for the first time - Turk men walking hand in hand down the streets, etc. It was a shock! Applied for and was accepted for helicopter training at Wolters. Started the training, but was discovered to have a eye problem which caused his transfer back to ASA at Vint Hill Farms, then to Field Station Sobe in Okinawa. While in Okinawa would go TDY to Vietnam for 2-3 days at a time on a special project. Jim related a twist of fate that could have been him instead of SP4 Jeff Hurley. Jim's wife's arrival in Okinawa caused him to swap his scheduled TDY to Vietnam with Jeff Hurley. Hurley was killed by incoming rockets during that TDY and Jim still considers himself - - Jim spent 9.5 years in the ASA and received a compassionate discharge when Delores became ill and died in May 2002.
Jim promised to re-write this short blurb